Zinedine Zidane Shows His Futsal Skills in France '98 vs Algeria '82/'86
March 2nd, 2010 | by: Daryl |

View Comments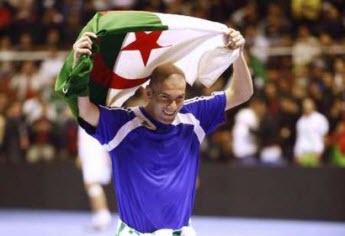 Relations between France and Algeria have always been a bit tricky. This isn't the place to discuss the specifics, but there's a whole Wikipedia page about Algeria–France relations if you want to read up. Despite said trickiness, there is one man who can claim to be loved in both countries: Zinedine Zidane.
Born in France to Algerian parents, Zidane is unmistakably proud of his dual identity. So yesterday Zizou and other members of France's 1998 World Cup winning team played a game of futsal in Algeria vs a combination of the 1982 and 1986 Algerian World Cup teams.
The idea seems to have been to promote good will and friendship between the two nations. A worthy cause of course. But I know you (like me) are probably more interested in seeing Zidane in action on the futsal court. Don't worry, there's plenty of video below.
According to le Parisien, the France '98 team representatives were as follows: Zinedine Zidane, Laurent Blanc, Didier Deschamps, Lilian Thuram, Christian Karembeu, Vincent Candela, Bernard Diomede, Lionel Charbonnier, Pierre Laigle, Bernard Lama, Olivier Dacourt and Sabri Lamouchi. They were coached, as they were in 1998, by Aime Jacquet.
Here's a Zidane-centric video I pilfered from 101 Great Goals. Clearly Zizou's still got the skills, even though he no longer needs them to pay the bills:
Here's a longer highlight reel, from a more Algerian perspective. Go to the 1:00 mark to see that Didier Deschamps will still elbow you in the mouth if you go past him, even in a game designed to promote goodwill:
Final score was France 8-2 Algeria, which is actually a credit to the Algerians when you consider the age difference.
Subscribe

International Football News – World Cup Blog RSS Feed

Share
blog comments powered by Disqus