World Cup Kits go High-Tech. And Female Fans Rejoice
December 2nd, 2009 | by: Laurie |

View Comments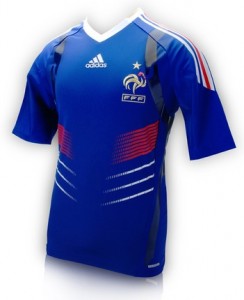 World Cup 2010 kits have gone high tech. Seriously high tech.
How high tech, you ask?
Well, according to the official Adidas press release:
Through the use of compression fabrics and applied TPU bands in specific areas, TECHFIT is proven to increase a player's power by 5.3 per cent*, vertical leap by 4 percent*, sprint speed by 1.1 per cent* and enhance endurance by 0.8 per cent*. The adidas 2010 FIFA World Cup TECHFIT jerseys worn as a single layer are 45 percent lighter than wearing two pieces together.
Power increase of 5.3%? Wow.
But wait. There's more.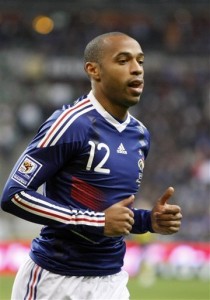 Female fans, if the recent French look is anything to go by, the performance maximization requires that these jerseys be extremely tight-fitting. As in: second-skin-tight.
(Or, y'know, so I've been told.)
And I'm surprised that nobody's mentioned this, but given that these kits can do in one layer what it used to take two to accomplish? Goodbye base layers. Which is great for the players because…uh…compressions shorts and shirts under a kit add weight and…um..
Oh, who am I kidding? What I'm really saying, ladies, is that they're taking away the undergarments, which means shirt swaps just got interesting again.
(And that giant crashing sound you hear is the internet collapsing under the collective weight of Kickette readers rushing to send a million fruit baskets to the good researchers at Adidas.)
But the good news for players of a certain body type is that this skintight fit is apparently not the only option.
The second 2010 FIFA World Cup jersey option is the FORMOTION uniform, which features optimised garment construction with sculpted sleeve openings to accommodate maximum freedom of movement.
I haven't seen photos of this one, but I believe it may be known as the "Brazilian Ronaldo" option.
Oh, what? I'm only thinking about his comfort.
Subscribe

International Football News – World Cup Blog RSS Feed

Share
blog comments powered by Disqus