World Cup 2010: For Official Sponsors Only
April 20th, 2009 | by: Daryl |

View Comments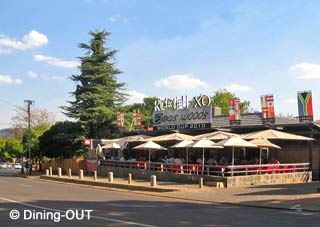 If you think the Premier League is copyright crazy, then wait until you meet FIFA. World football's governing body is like the Premier League's bigger, older and ten thousand times more paranoid brother.
If you remember, World Cup Blog has been legally threatened by world football's overlord twice in the last three years (in 2006 and again in 2008) because we dared to use the World Cup logo. On a site that was all about the World Cup. Imagine that.
But now FIFA is cracking down on words as well as logos, having just won a legal case against Eastwoods Tavern (pictured).

The pub in Pretoria, South Africa (near the Loftus Versfeld Stadium, which is a World Cup 2010 venue) was getting into the footballing mood with a sign that read "World Cup 2010″, as well as flags from various nations around the world, all of which can be seen in the above image.
FIFA looked at that and said no. Apparently the phrase "World Cup 2010″ is a registered trademark and can only be used by… you guessed it… official sponsors. FIFA are claiming this as a victory against "ambush marketers".
I agree that "ambush marketers" are not good people. When I was a youngster me parents bought me a "Batman" t-shirt from a street vendor in Blackpool that turned out to be unlicensed and unofficial and with the bat sign made of something that fell apart in the washing machine. And no doubt there'll be similar street vendors trying the same trick next year in South Africa (with World Cup merchandise of course, not Batman). FIFA has every right to try and stop those people.
But to stop a pub in South Africa from using the phrase World Cup 2010? Maybe FIFA thought the signs were an attempt to convince visitors that Eastwoods Tavern was a World Cup venue? Maybe some gullible tourists would think a Group B match was being played in the beer garden?
Or maybe once again FIFA has cracked down on the little guy who was trying to join in the festivities. FIFA won the case (they have expensive lawyers) and forced Eastwoods Tavern to remove all references to World Cup 2010.
When a pub located near one of the stadia can't even mention that the World Cup is going on, then the message from FIFA is very clear: The World Cup isn't for everyone. It's no longer a global celebration of football. It's just an event held every four years for the benefit of its massive corporate sponsors.
Subscribe

International Football News – World Cup Blog RSS Feed

Share
blog comments powered by Disqus