Who Do You Want to Host Euro 2016?
March 3rd, 2009 | by: Daryl |

View Comments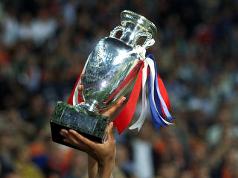 Tick, tick, tick. That March 9th deadlines is now less than a week away. Don't worry, we're not talking about whether David Beckham will be moving the rest of his stuff to Milan. We're talking bids to host for Euro 2016.
The big deal with Euro 2016 is that – for better or worse – it's the year we go from 16 to 24 teams. So it will quite literally be the biggest Euros ever. So UEFA are asking for at least 9 stadiums (two x 50,000, three x 40,000, four x 30,000).
The official UEFA deadline is next Monday, and so far there are 4 confirmed bids.
France – Bid was officially confirmed last month. They want it. Should have plenty of stadiums left over from World Cup '98.
Italy – Bid confirmed yesterday. Missed out on hosting Euro 2012, mostly because hosting rights were awarded while Mogi-gate was still fresh in the memory.
Turkey – Bid confirmed last month. Would certainly be a nice break from the same old same old.
Sweden-Norway – Bid recently confirmed, and Sweden are building a new national stadium in Solna. Only question: After Swissaustria and Polkraine… what do we call this hybrid host? Best I can do is Swerway. Help me out?
Rumour has it that Greece, Hungary, Romania and Russia are also considering separate bids, but nothing rubberstamped yet. The joint-bid from Scotland-Wales (Scwales?) has been eaten alive by the monster known as recessionpocalypse.
I say it's as simple as this: French President of UEFA, French team hosts Euro 2016. Hope it's not that simple, but think it might be. Not that a Euros in France would be a bad thing. I'd love to see it return to a large European country.
Italy would be great too. Since stadia were basically modernized in the 90s and Italy's last tournament was the 1990 World Cup, it's fair to say that Italy hasn't really hosted a modern day tournament. Maybe it's about time?
Sweden/Norway I'm not sure. Two nice countries, but I'm already sick of joint bids. And my guess is that UEFA are too.
Turkey I think would be fascinating. Especially as Turkish culture is a little different to the rest of Europe (possibly because half of it is in Asia). And can you imagine the dramatic comebacks a host Turkish team would make?
Where would you like to see host Euro 2016?
Subscribe

International Football News – World Cup Blog RSS Feed

Share
blog comments powered by Disqus