Those German Dopes
October 5th, 2011 | by: chris |

Comments Off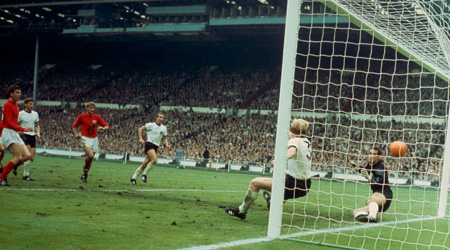 One of the most controversial games in World Cup history just increased and decreased in controversy simultaneously. That's an achievement in itself.
The 1966 World Cup final was marked by the was-it-or-wasn't-it-over-the-line debate over Geoff Hurst's third and decisive goal. (Oxford research says nay.) It was then wonderfully relived in South Africa, much to the delight of the neutral world.
Turns out it could have been moot – three German players were apparently illegally under the influence of sniffles medication. Or something.

It only took 45 years for a mysterious letter to be unearthed from the archives.
And how convenient.
Three West Germany players tested positive for the banned stimulant ephedrine during the 1966 World Cup finals in England, according to a document seen by German magazine Der Spiegel.

Writing to German athletics chief Max Danz on Nov. 29, 1966, months after the final which England won 4-2, Andrejevic allegedly informed him that doping tests for three German players conducted during the tournament were positive for ephedrine, also found in medicine for treating cold symptoms.

It is unclear whether the players had taken ephedrine on purpose or through some cold medicine available at the time when drugs testing was still in its infancy.
Frightening thought: What if England had lost that game?
We'd all be moving to lands without access to English-speaking media.
Subscribe

International Football News – World Cup Blog RSS Feed

Share
Comments are closed