The Two Sides of Mario Balotelli
June 19th, 2009 | by: Daryl |

View Comments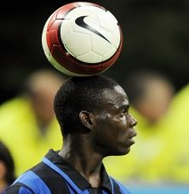 The UEFA Under-21 Tournament (happening in Sweden right now, but being overshadowed by the Confed Cup) is basically a glimpse into the future. To steal paraphrase something I once heard Tim Vickery say about the U-20 World Cup, watching these players is like watching the trailers for movies that are "coming soon".
And watching Mario Balotelli in Italy's 2-1 win over Sweden, where he scored a brilliant goal and then got himsdelf sent off fifteen minutes later, was maybe a story we'll see again in various forms over the next few years. Let's start with the positive, here's Balotelli's goal:
Can't argue with that. Nice touch and turn from young Giovinco, followed by the sort of finish the senior Italy side could have used vs Egypt on Thursday. But fifteen minutes later this happened:
Not the worst foul in the world, for sure. But looked like there was at least one and possibly two attempts to kick Pontus Wernbloom there. And something about the way Balotelli sat there on the floor afterwards suggested he knew a red card was coming.
There's almost no doubt that Mario Balotelli will be one of the big names in world football. And we'll likely be talking about him for years to come. Good news is that Balotelli is only 18, so there's plenty of time left for him to grow up. Wayne Rooney seems to have done it, mostly. So hopefully we'll be able to spend the next decade (and more) talking about Balotelli's talents rather than his temperament.
[vids via 101GG]
Subscribe

International Football News – World Cup Blog RSS Feed

Share
blog comments powered by Disqus