The Algerian-Russian Connection
February 17th, 2012 | by: chris |

Comments Off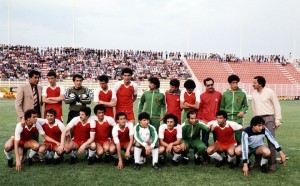 It's not always good news, is it? Though this seems it could be at least partly the plot to a Bond film, so if any of the victims fancy whipping up a quick screenplay – and they are – there's certainly some money to be made from this.
There's been a disturbing trend of disabled children of those who played for the Algerian national football team roundabout the time a Russian doctor with mysterious practices showed up in the early 80's.
Even the mere plot seem cliched enough to be grounds for guilt.

Due to the fact that the issues involve mental health, or at least neurologically linked (it sounds), they don't discuss just which disabilities those are, and one source speculates the link to be unlikely, it's nonetheless an intriguing plot which is now getting its day, with the Algerian FA opening an investigation.
Rashid Hanafi is a respected figure in Algerian sport. He is president of the Algerian Olympic Committee, but was once doctor for the national side. He admits that suspicious practices occurred during the 1980s.

"When Russian Gennady Rogov took over as coach in 1981, I was not allowed to take a look at the medical records of the players any more," Hanafi told CNN.

"I suspected he was trying to do some suspicious tests, and this is why I submitted a detailed report to the national center of Algeria sports and medicine and the ministry of sports.
Subscribe

International Football News – World Cup Blog RSS Feed

Share
Comments are closed