Seleção Now The Second Best Team In Brazil.
October 8th, 2008 | by: chris |

View Comments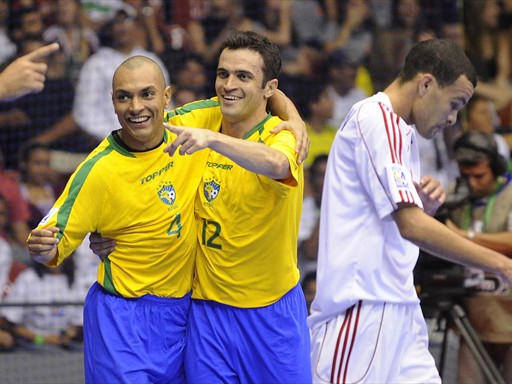 I like defense and tactics as much as the next fan, maybe even a bit more, but I also like it when somebody unlatches the back door and it turns into Who's In Paris Hilton's Bedroom? on the pitch. So the Futsal World Cup is quite cool, because everyone pretty much adheres to The Kevin Keegan Philosophy of Football: What defense? And at the moment, the futsal equivalent of the Selecao are absolutely running the show at home in Brazil (as was the case in the past, winning the first three FWC's before Spain won the last two).

Futsal is typically, compared to it's grass-based counterpart, high scoring, but the samba boys are currently out hitting opponents 49-1. Forty-nine in four games is quite a bit . And as far as pure scoring goes, Russia, in the same group, has done one better, scoring 50 in 3, even after being shutout 7-0 by Brazil. (Group A being very fortunate to draw the Solomon Islands; SI having conceded 69 in 4 and probably due for a bit of post-traumatic stress syndrome when they return home.)
Maybe with Dunga under heavy fire right now, Paulo Cesar De Oliveira, the futsal coach, should take over. Or at least call him up for some pointers. After all, 49-1 in any World Cup format is really damn impressive.
If you're into schadenfreude, the atrocity against the Solomon Island for your viewing…
Brazil 21 – SI 0
For full Futsal World Cup coverage, check FIFA.
Subscribe

International Football News – World Cup Blog RSS Feed

Share
blog comments powered by Disqus