Raymond Domenech: Man Seeking Muzzle.
October 20th, 2009 | by: chris |

View Comments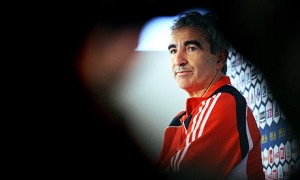 For those on the inside looking out, nary a worse manager reigns in the international realm; for those on the outside looking in…

Viva la Domenech.
What he lacks in coaching abilities, he makes up for in deliciously idiotic words. He's kind of like Maradona without the playing career. Or coke habit. Or fatness.
The latest and greatest comes fresh off the announcement of Ireland as their obstacle on the way to South Africa 2010. A team he's affectionately dubbed 'England's B side'.

There may have been something lost in translation, or there may not – this is Raymond Domenech, after all. What is certain is that Irish eyes will be giving this the thrice over at the bulletin board every single day up until that first day in Dublin.
"Whoever our opponents were, I would have said the same thing, the objective is to qualify: but now it's Ireland, we just have to get on with it. The advantage is that everyone knows them. They are a sort of England B side. They all play in the English league so all our players know them: some of our players play alongside them, while others against them. There will be no surprises. We know what to expect and we know what we have to do."
Of course this isn't the first time the Irish have been referred to as England's B's. Back in the 90's they used to hunt out Irish lineage in Englishmen for the national team, earning the name and reputation.
Not quite what Domenech meant, however. What he meant to say is that the Irish aren't quite a closed book, that like England, their playing style and players are no mystery. Which he did say. Only the good and logical was overshadowed by the large mess he'd made in the other room, falling in line with the rest of his managerial career, spurring on the Irish in the process.
And if his managerial career remains on course, he'll leave the playoff with a job regardless of outcome and will still be doing more for the opposition than his treasured Les Bleus. Viva la Domenech.
Subscribe

International Football News – World Cup Blog RSS Feed

Share
blog comments powered by Disqus