Polls: Who Will Be 2008 FIFA World Player of the Year?
December 12th, 2008 | by: Daryl |

View Comments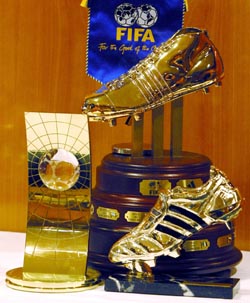 The 2008 FIFA World Player of the Year shortlists just got a lot shorter, after voting by national team captains and coaches. The men's award is now a proper shortlist of five, as opposed to the original list of 23 players (more a World Cup squad than a shortlist, no?), while the women's shortlist has been cut in half from 10 to five.
Ladies first:
Nadine Angerer (Germany)
Cristiane (Brazil)
Marta (Brazil)
Birgit Prinz (Germany)
Kelly Smith (England)



And now the fellas:
Cristiano Ronaldo (Portugal)
Kaka (Brazil)
Xavi (Spain)
Fernando Torres (Spain)
Leo Messi (Argentina)
Shortlists will be reduced even further (to one) when winners are announced and then laden with trophies at the Zurich Opera House on January 12th, 2009. Will C-Ron get a World Player of the Year golden boot thingy to sit alongside his Ballon d'Or? The answer is: Yes, he probably will.
But let's do a couple of polls anyway and then come January 12th we'll look back and see if Offside readers are as smart as we think they are. Polls close January 11th, just to be sure:
Subscribe

International Football News – World Cup Blog RSS Feed

Share
blog comments powered by Disqus