Polkraine Euro 2012 Logo Unveiled; Now Offering Rewards For A Do-Over*.
December 14th, 2009 | by: chris |

View Comments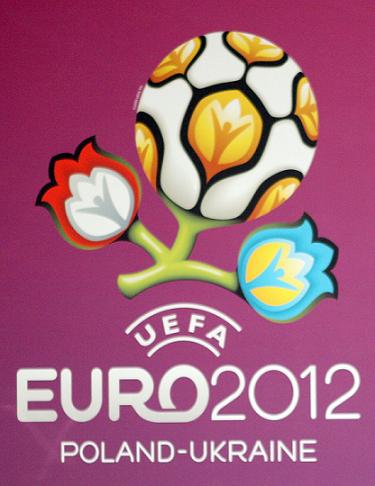 (* – Not really.)
Does this Euro 2012 logo not look like the pattern of a shirt you'd get for a 4 year-old girl found on a rickety rack standing dangerously close to the produce section of a supermarket?
Or maybe some strange knick knack found on your grandmother's dresser which your whole family makes fun of, only to see it on Antiques Roadshow and find it's worth a small country.

Given that there are two countries in play, it was probably fairly difficult to find cultural similarities which could be expressed in a logo. And if the official uefa.com is any indication, this is true, as they don't quite give any hint as to its meaning (the flag colors should be unmistakable, however). Those involved just keep calling it 'beautiful' as if programmed.
"It is of tremendous importance for such a worldwide event to have such a beautiful logo," he said. "It gives a flavour of the competition and of our two countries. The slogan also contains a clear message that Poland and Ukraine are ready to surprise the world and will deliver a unique experience to visitors in summer 2012. The slogan is great. Ukraine and Poland have a long and complicated shared history but this tournament will make us friends forever."
Setting expectations low is the new successful tournament.
Meanwhile, Ukraine has confirmed some venues: Kyiv, Donetsk, Kharkiv and Lviv will be the four Ukraine venues, with the capital holding the final.
So long as they don't allow in vuvuzelas, there's no way this can't go well, right?
Subscribe

International Football News – World Cup Blog RSS Feed

Share
blog comments powered by Disqus