Paul The Octopus Is Dead, But He Will Not Die.
October 27th, 2010 | by: chris |

Comments Off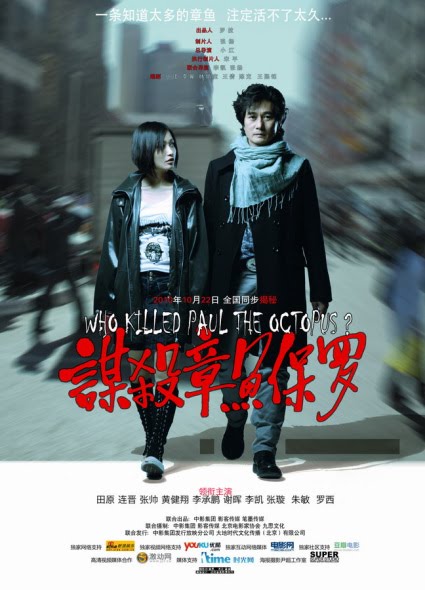 That's reportedly the movie poster for the upcoming film about Paul's life. A conveniently intriguing conspiracy theory has erupted from those surrounding the film, indicating that Paul did not die over Sunday evening, but on July 9th, two days before the world cup. These are the type of people who stumble around in foil helmets, jamming alien frequencies and telling us that an oracle octopus can predict the future.
Pfft. Idiots.

Jiang said she thought it was "kind of strange" that news of Paul's death had broken not long after the Oberhausen Sea Life Centre in western Germany had contacted her team to say they were keen to co-operate on the international distribution of her film.

"We have been keeping in touch with the German aquarium ever since the beginning [of production] but it seemed to me that they were afraid," she said. "The movie is about unveiling the inside story behind the octopus miracle, so they felt nervous.

"For the movie, we had done quite a lot of investigation and I am 60% to 70% sure that Paul died on 9 July [two days before the World Cup final] and the Germans have been covering up his death and fooling us for a long time."
Or maybe just those looking for a bit of free publicity for their upcoming movie? Probably that.
Meanwhile, Paul's successor has been named: a mysterious Frenchpus, with tremendous tentacle booties to fill.
But a slimy Frenchman who enjoys a bit of whimsical prognostication and decides the outcome of football games based on things from above? I think we've seen this movie before.
Subscribe

International Football News – World Cup Blog RSS Feed

Share
Comments are closed