Now Stephen Appiah Has a Day Job
November 2nd, 2009 | by: Daryl |

View Comments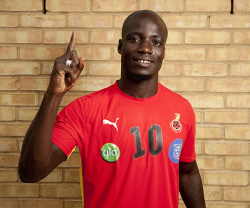 For a long while there, Stephen Appiah was an international footballer only. The midfielder has not played a kick of club soccer since late 2007, but still managed to captain Ghana through a successful World Cup 2010 qualification campaign. Which is ridiculously impressive when you think about it.
I'm not sure what Appiah did between matches (my guess is a mix of rehab, fitness and playing Football Manager on his laptop) but you can bet he had those FIFA international dates circled on his calendar with a big bright highlighter pen.
Appiah's bizarre situation began with a knee injury while he was with Fenerbahçe. According to Appiah, the Turkish club screwed up his treatment and so he headed to Italy (where he had played in Serie A for both Juventus and Udinese) for rehabilitation. Appiah also ended his contract with Fener, which the club weren't happy about, and so the midfielder found himself clubless and his career in legal limbo.
Yesterday it was announced that – finally – the now 28 year old Appiah is is once again gainfully employed. He's signed for Serie A side Bologna, so now he can spend the time inbetween Black Stars matches playing professional football.
Here's Appiah statement from his magnificently named personal website StepApp.com:
'It is a good day for me and I am extremely happy that Bologna have shown faith in me and signed me'

'It is a new chapter in my life and I am looking forward to joining the team and helping Bologna's dreams come true. I am part of the Bologna family now and their dream is my dream too'

'I will like to say a very big thank you to everyone at Bologna who has been involved in this. I am ready for the challenge and looking forward to pulling on my favourite number 4 jersey for the 'rossoblu'

'I will also like to thank every single one of you who have prayed for me, wished me well and supported me through out these trying times. I couldnt have made it without your support and prayers. I am eternally grateful to you all and you will see the real Appiah back to his best soon'

'I will also like to thank the GFA, Black Stars Management team and players who have stood by me through thick and thin'

'I am excited and will give a full length interview later in the week when I settle in Bologna. In the mean time I am happy to declare that Stephen Appiah is no longer Unattached'
It's my understanding that though Appiah is much loved in Ghana, not everyone was in favour of coach Milovan Rajevac continuing to pick and play the midfielder. There was also some suggestion that continued clublessness would have a negative impact on Appiah's chances of making the World Cup. You know, the upcoming World Cup. The one that's the first ever on African soil. So maximum respect to Rajevac for sticking with his captain, and maximum respect to Stephen Appiah for not giving up. I hope Apiah makes an impact at Bologna (currently fourth bottom of Serie A, so they could do with a boost) and that we see him captaining the Black Stars at World Cup 2010 next June.
But here's a question already… after signing Appiah in November, how happy will Bologna be when goes to Africa Cup of Nations 2010 in January?
Subscribe

International Football News – World Cup Blog RSS Feed

Share
blog comments powered by Disqus