Maradona vs Riquelme
March 16th, 2009 | by: Daryl |

View Comments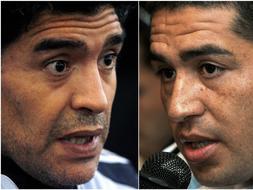 Say what you like about Diego Maradona's reign as Argentina DT, but it hasn't been short of drama.
The big argument for this past week (and the foreseeable future) has been Maradona vs his (former) playmaker Juan Roman Riquelme.
For those who haven't been following, here's the story so far:
Riquelme hadn't been playing well for Boca Juniors.
Maradona publicly criticised Riquelme's Boca performances in a TV interview:


"I want Roman as a playmaker, to make a difference in the last 20 meters with his mental quickness, to feed our strikers and create goals, but the other day I saw him on the field for Boca and, I don't know if he's having physical problems or what, but that's not what I need,"

Riquelme got the hump with that, and retired from international football.

But it hasn't ended there, as the two men have turned their disagreement into a Biggie vs Tupac style feud. And the rest of Argentinean football is getting involved too.
Here's what Riquelme said about his refusal to play under El Diego:
"As long as Maradona is coach I will not return to the national side – we are not on the same wavelength.
"It's clear we cannot work together.
"The national side is over for me – I say that very clearly. I learned from the radio that I was not going to play against France (a February 11 friendly with the South Americans won 2-0 in Marseille). I have principles and they are not those of the coach.
Boca coach Carlos Ischia has – understandably – defended his star player. But you might be more surprised to learn that the River Plate coach Nestor Gorosito also came to Riquelme's defence, saying the midfielder "many principles and he believes they have not been respected."
And because Diego Maradona is such a calm guy, you know he just responded with a wry chuckle and went about his work.
Oh no, wait. That's not how Diego works at all. He actually responded this weekend by threatening both Riquelme and Gorosito, according to The Canadian Press:
Maradona warned Riquelme in an interview published in the daily Clarin on Friday not "to tarnish my name because I have more wit and cunning than he does," while also threatening to spill private details about Gorosito because "I know (him) well and I'm tough when it comes to getting the damage done."
Blackmail. Classy.
In a way, this was always the main pitfall with Diego Maradona coaching Argentina's national team. Doesn't matter that he doesn't know about tactics. He's got coaches who do. The real problem is that the man can't keep his mouth shut. He has an opinion on everything. From Riquelme's form to the World Player of the Year voting rules.
Everyone knows Riquelme has a skin so think you can see his organs. The Boca #10 is a fool for over-reacting and throwing away a genuine chance to be part of a World Cup winning team. But really Maradona should have known better. So both men are to blame, but the boss (who should be the more mature party in situations like this) started it.
And has Diego learned anything from this? Of course not. Over the weekend he told Hernan Crespo that he needs to leave Inter Milan if he wants an international future.
I don't see a resolution to this Riquelme argument. The two men are so stubborn it's the unstoppable force vs the immovable object. But I do see more drama and more arguments in the future for Diego Maradona.
Subscribe

International Football News – World Cup Blog RSS Feed

Share
blog comments powered by Disqus