Japan Drive The Anti-Vuvuzela Bus
November 17th, 2009 | by: chris |

View Comments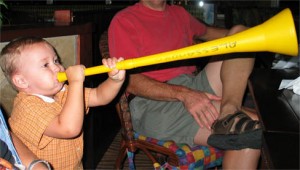 It would seem this vuvuzela thing is, at the very least, unpopular. As a direct result of its popularity, of course. Xabi Alonso left the Confederations Cup poo-pooing the vuvuzela and its effect on the field of play. The cacophony a bit too intense for such things as hearing the whistles and one's teammates – not things entirely insignificant.
Japan, the latest team to enjoy some South African soil (in a nil-nil draw), have taken it one step further: they've officially requested the South African FA ban the vuvuzela. The South African FA almost assuredly won't ban something which could conceivably give their team an advantage, but this is the first battle in a war which may overshadow the build-up to South Africa 2010.

The Japanese, much like Xabi, are saying that communication between teammates is impossible with the trumpets raining down.
"We have requested that the South African FA cut that noise out," Japan Football Association (JFA) president Motoaki Inukai was quoted as saying in Tuesday's edition of the Sankei Sports newspaper.

"You can't hear yourself speak. I will be bringing it up (with FIFA president Sepp Blatter)," Inukai added after Japan's 0-0 draw with South Africa in Port Elizabeth.

Japan defender Tulio said: "You can't hear what your team mates are saying from two metres away. You have to go up to them to give instructions."
And while the South African FA likely won't do anything, not without significant pushing from the political higher ups, there's a very real chance South Africa will be sans vuvuzela. Remember it was banned at one point for the tournament before FIFA reconsidered, thinking it an integral part of the South African football experience. Which it surely is. The only problem is it's creating a singularly South African football experience, not a World Cup experience.
And that's precisely the problem: it's affecting the football. This has nothing to do with South Africa, Africa or trying to impose one's football culture on the host. It simply has everything to do with knocking that little white ball around a green pitch. And while FIFA may be many things, they take the football very, very seriously. Some may say Japan is whining, but they won't be the last and it won't be long before the noise of the complaints drowns out anything emanating from the trumpets.
Subscribe

International Football News – World Cup Blog RSS Feed

Share
blog comments powered by Disqus