Is Nicolas Anelka's International Career Over?
August 17th, 2010 | by: Daryl |

View Comments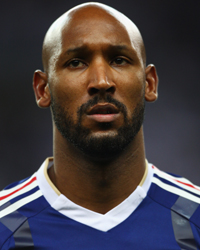 The French Football Federation has handed down punishments to the players involved in the infamous World Cup 2010 revolt. Big loser is Monsieur Nicolas Anelka, who started the whole thing by suggesting that coach Raymond Domenech do something anatomically impossible during halftime of the 2-0 defeat to Mexico.
Anelka received an 18 game ban from the FFF. That's 18 international games. If you take a look at France's schedule you'll see that between now and October 2011, there are only 14 games planned. So Anelka will be suspended for the entirety of France's Euro 2012 campaign and then some. Anelka is 31 years old right now, so he'll almost certainly be 33 or older by the time his ban is served. In other words, we probably won't be seeing Anelka doing his butterfly celebration in a France jersey ever again.
Captain Patrice Evra received a five match ban for leading the team's refusal to train after Anelka was sent home, Franck Ribery received a three match ban and Jeremy Toulalan just the one match. Eric Abidal was summoned by the FFF but escaped punishment. My guess is he ratted everyone out in a Ray Liotta Goodfellas style plea bargain. (Not really).
The hilarious thing here is that in my opinion the FFF are to blame for everything that happened at World Cup 2010. If the FFF had replaced Domenech after his dismal failure at Euro 2008, then the disaster in South Africa almost certainly wouldn't have happened. Can we somehow impose a 100 year ban on the FFF from making decisions about who coaches the French national team?
- More about Les Bleus at the France blog.
Subscribe

International Football News – World Cup Blog RSS Feed

Share
blog comments powered by Disqus