Is Diego Maradona's Boca Bias Hurting Argentina?
September 22nd, 2009 | by: Daryl |

View Comments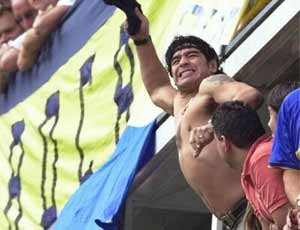 We have bloggers and readers on WCB and The Offside who've forgotten more about Argentinean football than I'll ever know. So I may be venturing out onto thin ice here. But I have a theory that might help explain why Diego Maradona is struggling as Argentina boss.
It has to do with his deep love of Boca Juniors and his accompanying distaste for all things River Plate related. Basically I think El Diego's Boca bias might be influencing his national team decisions. Which is never a good thing.
For those even less familiar than myself, Diego Maradona is a Boca fan and former Boca player. Though El Diego started out at Argentinos Juniors, his first big move was to Boca in 1981 (he rejected River even though they had more money to offer). And he returned to the club in 1995 before finally retiring in 1997. The image above (half-naked and hanging out of the executive box at Boca's La Bombonera) pretty much sums it up. And part of being pro-Boca involves being anti-River.
Unfortunately for the Argentina national team, Maradona might taken this a bit too far. Here's the evidence:
When Argentina were scheduled to play a World Cup Qualifier va Colombia at River's El Monumental stadium this past June, Maradona had a well publicized rant about what River had done to their pitch with a recent rock concert:
"It's disastrous.I hoped we could look for another stadium but I was told that River (Plate's) is the only one approved by FIFA," he said. "I'm not bothered about River wanting to earn money but I think they should be able to organise the dates properly."

"We've brought over (Lionel) Messi, (Sergio) Aguero, (Javier) Mascherano, (Fernando) Gago and we're asking players who cost millions of euros to play on a piece of waste ground. I'm not interested in the finances of River but it's horrible. Regrettably we have to play there."
Nasty rant, but no harm done as Argentina won the game 1-0. However, Argentina's big match vs Brazil last September was relocated as a result of Maradona's outburst, moved from El Monumental to Estadio Gigante de Arroyito in Rosario. That didn't go so well.
More important than stadium selection, Maradona's Boca bias appears to be affecting his squad selection.
Consider his two most questionable call-ups for the recent (disastrous) World Cup qualifiers vs Brazil and Paraguay. 35 year old striker Martin Palermo and 36 year old defender Rolando Schiavi. Palermo has never done much at international level, unless missing three penalties in one 1999 Copa America game counts…

… but has been a big source of goals for Boca.
As for Schiavi… He had never played international football before, ever, but did have a very successful four years with Boca at the peak of his career.
The players Maradona is leaving out are even more visible. Argentina still lacks a big #9, but Maradona has been ignoring both the experienced Hernan Crespo and the in-form (for Real Madrid no less!) Gonzalo Higuaín. What do these two men have in common? Apart from being visibly better footballers than Martin Palermo? They both used to play for River Plate. There are other issues with Higuaín, like his refusing a call up for the U-20 World Cup, but I still suspect his River history plays a part in his lack of international recognition, if only in El Diego's subconscious.
Now I know what you're thinking. Nice try Daryl, but what about Juan Roman Riquelme? The brilliant playmaker who quit international football after a row with Maradona. Doesn't he play for Boca Juniors?
Well, yes, he does. And I nearly abandoned writing this post because of that. But then I remembered why the two men fell out with each other. It was because Maradona was unhappy with how Riquelme was performing for his beloved Boca, and couldn't keep his mouth shut about it. If Riquelme had been playing his club football somewhere other than Boca, he might still be playing for the national team today.
Subscribe

International Football News – World Cup Blog RSS Feed

Share
blog comments powered by Disqus