How David Beckham Got His Golden Balls
December 18th, 2007 | by: Daryl |

View Comments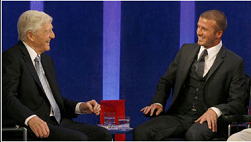 Ah, David Beckham. His celebrity may outrank his actual football skills by a factor of ten, but it's still impossible not to like him. For all the weird fashion decisions: floppy fringe, faux-hawk, sarong, Spice Girl etcetera, Becks is a lot lot smarter than he gets credit for. Not Good Will Hunting smart, but smart enough to maintain a positive media image under intense scrutiny. And for all his celebrity and cash (and medals: Premier League, La Liga, Champions League, not too shabby) the guy never, ever seems arrogant and is still able to laugh at himself, which is quite an achievement. This recent television interview in England, for the old as balls but legendary Michael Parkinson's final ever chat show, is a perfect example…

In part one, Parky and Becks discuss England's Euro 2008 debacle, the player's attitudes, young player's attitudes, Alex Ferguson and the famous boot-throwing incident, Steve McClaren (who Becks clearly has no time for, though he doesn't quite say so directly) and being dropped by England.
In part two they talk the validity of MLS, touch on 1998, relive the moment Posh revealed Beckham's "Golden Balls" nickname (with video clip,) wearing Posh's knickers (thankfully without video clip but with a cheeky gag from Michael Caine), his slightly freaky obsession with neatness, hoovering, the possibility of playing for England again, and life after football.
video via Who Ate All the Pies?
Seems like Beckham may even get his 100th cap wish. Rumour has it that Fabio Capello will pick Becks and possibly name him captain for the friendly against Switzerland in February in a one off thanks-for-everything type deal. Golden Balls indeed.
Subscribe

International Football News – World Cup Blog RSS Feed

Share
blog comments powered by Disqus