Ghanaian Government Burns Town to the Ground for African Cup of Nations 2008
December 26th, 2007 | by: Daryl |

View Comments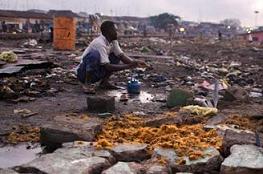 I've been slowly but surely getting very very excited for the 2008 African Cup of Nations in Ghana this coming January. But excitement turned to anger last week when I read this story in The Times, about the Ghanaian government "cleaning up" the area around the Baba Yara Stadium in Kumasi. That doesn't mean picking up litter or a nice new paint job, it means the military marching into the shanty town without warning and using flame throwers to burn thousands of homes to the ground.

Zongo is, or at least was, a slum district of the city of Kumasi and home to about 15,000 impoverished people living in makeshift buildings like corrugated iron shacks. So that the millionaire players and the fans attending African Cup of Nations games didn't have to see the slum on their way to the Baba Yara Stadium, Ghana sent in bulldozers to clear the area, backed up by a squad of 200 military and police. How very thoughtful of them.
Apparently the squad arrived without warning, armed with machine guns and flame throwers, and ordered residents to leave their homes immediately. Those who tried to go back for belongings were beaten with canes. The original plan had been to bulldoze the slum, but when the bulldozers got stuck in the mud they just set fire to everything instead.
The Times spoke to Ibrahim Addalah, who had been a teacher at one of the schools the community had set up under their own steam. He describes the situation in Zongo right now:
My school is gone. The community had bought us a blackboard; we had made a small school. It took us a long time to get all those things: the benches, the books. They gave us no time to leave; they just burnt our homes and our future to the ground. Now we are living in the rubble with nowhere to go.
Many of those affected were Muslim migrant workers, lured towards Kumasi in the hope of finding work. There's a belief that the Ghanaian government used the upcoming African Cup of Nations as an excuse to exercise it's anti-Muslim prejudice by destroying Zongo and clearing out its residents.
Image of Zongo via Times Online
Subscribe

International Football News – World Cup Blog RSS Feed

Share
blog comments powered by Disqus