Football and the Revolution in Egypt
February 8th, 2011 | by: admin |

Comments Off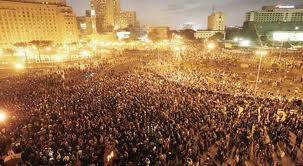 While the protests in Egypt have subsided from their peak last week, hardy anti-Mubarak protesters still occupy Tahrir Square in the capital, Cairo. While the world was enraptured with images broadcast by organizations able to avoid the secret police, such as Al-Jazeera, what effect did the protests have on football in the country? Or more importantly, what effect did football have on the protests?
A number of outlets reported that the protesters who engaged in the initial battles with the pro-Mubarak camp were using tactics very similar to those use by Ultra's for both Al-Ahly and Zamalek.
Football journalist Robert Layne, after watching the protests, noted:
"There were designated rock hurlers, specialists in turning over and torching vehicles for defensive purposes and a machine-like quartermaster crew delivering projectiles like clockwork on cardboard platters."
While Ahly's ultra's almost immediately made clear that they were to remain non-political during the demonstrations, it seems likely that individual or even groups of Ultra's participated in some way during the demonstrations, and likely still do today.
Moving to the pitch itself, as the violence escalated, a number of Ghanian players currently playing across the top two divisions of Egyptian football desperately sought a way to leave the country, but the Ghanian government now says that they are safe, and have no reason to be fearful. Probably easier to say for the Ghanian government in Accra, but nonetheless surely the scenes in Tahrir were nerve wracking for the players and their families back home.
In terms of the Egyptian domestic game, all matches have been called off, including Zamalek's African Champions League tie with Kenya's Ulizni Stars, due to the unrest.
The national team, also scheduled to host the United States in a match which would have been excellent preparation for their March AFCON qualifier against South Africa, has had to cancel the February 9th match after the Americans withdrew.
While the protests seemed to have ebbed somewhat, the situation is far from being resolved, and it will be fascinating to see how football affects, and is effected by, the ongoing revolution. Particularly fascinating will be determining exactly what role ultra's have had on the final outcome. In a world where many desire for a separation of politics and sport, Egypt shows us that sometimes the two are simply inextricably linked, regardless of rhetoric.
*Egypt WCB Blogger Hany spent days protecting his Cairo home from looters, before he was able to fly to the United States. See his story in the comments section of his most recent article.
Subscribe

International Football News – World Cup Blog RSS Feed

Share
Comments are closed