FIFA World Rankings: August 2009 (Or: FIFA Rankings vs Elo Ratings, Round 2)
August 5th, 2009 | by: Daryl |

View Comments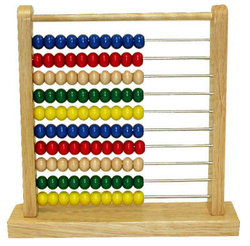 The new FIFA World Rankings are out. Well, I say new, they're actually very very similar to the July 2009 rankings, with just Germany and Italy switching places in the top 10.
The way this usually works: We publish the rankings here on WCB, and then everyone complains in the comments about how inaccurate they are. And with good reason. Russia probably shouldn't be two places above Argentina for example.
But this month I want to repeat an experiment we did last year and compare the current FIFA rankings with the rival World Football Elo Ratings System.
Rather than repeating information, please allow me the indulgence of quoting myself from when we first compared FIFA and Elo, back in September 2008:
The main alternative to FIFA's calculations is the World Football Elo Rating System, adapted from Dr. Elo's world chess rating system by footy fan Bob Runyan.

How do the two differ? Basically the FIFA system works like a big league table of the last four year's results, but with points weighted by the type of game (eg World Cup final more valuable than a friendly), the opposition, confederation and time past since the game. Laurie furnished us with an excellent explanation here (seriously, go read that if you want to understand the FIFA system.)

The Elo system works a little – but not dramatically – differently. As with FIFA's it's a giant league table, but using data from (and I quote) "international football 1872 – present". The system takes into account the type of game (World Cup, friendly, etc) but also the score as well as the result (ie how many goal did a team win by) and also the win expectancy (ie was the team expected to win, and by how many goals.)

A full explanation of the Elo football system can be found here.
On that occasion, we compared the rival system's top 20s, and put it to a vote. The result was that 69% of people favoured Elo over FIFA. So, let's do it again and see if anything has changed. Here's the FIFA top 20 (published August 5th) followed by the Elo top 20 (published July 27th).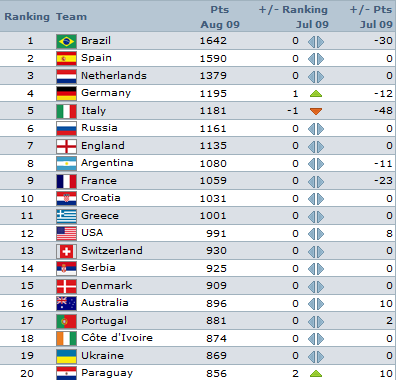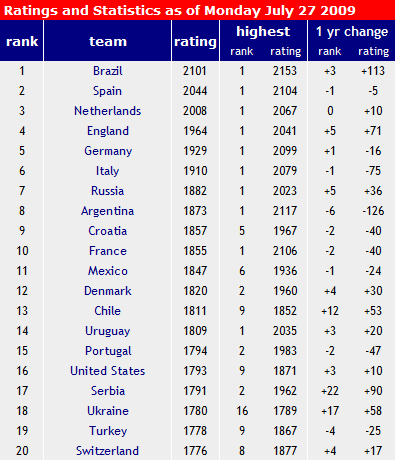 And here's the Poll. Which top 20 most accurately reflects reality: FIFA rankings or Elo Ratings?
Subscribe

International Football News – World Cup Blog RSS Feed

Share
blog comments powered by Disqus