FIFA World Cup 2026: Colombia!
March 18th, 2010 | by: chris |

View Comments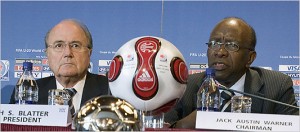 There are many things which FIFA isn't very good at. One of them is putting anyone in the organization in front of a microphone, or allowing spilled words onto a page into the hands of the media. Another is running the world's football organization.
So FIFA, after handing this year's World Cup to the country with the second highest per capita murder rate, are looking to outdo themselves by sponsoring a World Cup bid by the world's most dangerous country, Colombia. Hip hip.

Jack Warner – ever a maestro with words and speaker of such classics as "England invented the sport but has never made any impact on world football" , and "Nobody in Europe likes England" - sat in front of some microphones and urged Colombia to bid for a World Cup spot in 2026.
Warner formed part of a FIFA delegation that visited Colombia in order to inspect the venues for next year's Under-20 World Cup, which is by some considered a final test ahead of a senior World Cup bid.

"In 2014, the World Cup will be in Brazil. Twelve years later the World Cup will once again be for South America. I think this will be a good start for Colombia in order to place a bid for the 2026 World Cup as they will have first class venues by then," Warner stated.
Colombia's earned a World Cup bid once before, in 1986. The same tournament which was held in Mexico because Colombia couldn't scrape up enough cash to improve facilities.
Colombia's also the same country which allowed a player back onto the pitch 6 months after he murdered a fan.
Of course this won't stop FIFA from doing everything possible to get the World Cup in Colombia. Jack Warner lives there calls Colombia a "second home", you see, and by the time the vote happens for WC2026, enough envelope ballot stuffing will have occurred to get his wish.
Unless a cryogenically frozen Sepp wants it in his living room.
Subscribe

International Football News – World Cup Blog RSS Feed

Share
blog comments powered by Disqus