Euro 2016 To Be Awarded Today (To France)
May 27th, 2010 | by: chris |

Comments Off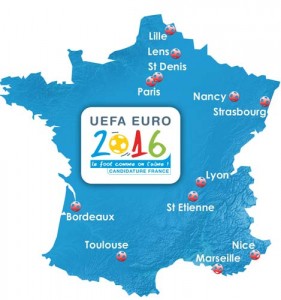 We haven't quite entered "worst secret" territory, but when the lotto ball for Euro 2016 is plucked from that bin by a scantily clad Michel Plantini, the world expects him to show a French one, and for good reason: they're throwing money at it.
The other two candidates are Italy and Turkey. The latter has been something of an edgy bid, needing a great deal of infrastructure work, while Italy has offered up the least amount of money to upgrade stadia, reportedly trumpeting Rome's modern new stadium, the Colosseum.

France, on the other hand, would hold the final at the Stade de France, which was built in 1995, as opposed to "many, many moons ago".
The French have pledged to spend £1.44billion [€1.7b] on renovating and building new stadiums, which is more than rivals Italy and Turkey combined have promised.

French Football Federation communications director Pierre-Jean Golven said: "We know we have our chances and have a strong bid, but we remain very humble.

"Our spending commitment is more than what Germany invested for the 2006 World Cup and 60 per cent of that money will come from private investors, which is a guarantee in times of crisis making public money harder to get."

France, who have hosted the championships twice, including the inaugural finals in 1960, are planning four new venues at Bordeaux, Lille, Lyon and Nice and would stage the final at the 76,000-seater Stade de France.
The problem is partially that 60%, because private investment has known to fail once or twice in recent football memory. Turkey has offered up €1b of government money, which comes with a bit more guarantee. And then there's the allure of the atmosphere which would be, in a word, unrivaled.
Yet it only makes sense that it'll go to France: they're the safe bid and even though Polkraine 2012 still has two years left to run, the road has been bumpy – quite literally in certain instances.
Even without the government providing the bulk of the cash, it's still more cash (more is better – remember that), so you're likely to book your trip to Paris and Bordeaux in 2016, where you can get wasted with a red-nosed geezer named Alex suspiciously eyeing up all the children.
Subscribe

International Football News – World Cup Blog RSS Feed

Share
Comments are closed