Euro 2012: The Awards
July 2nd, 2012 | by: chris |

Comments Off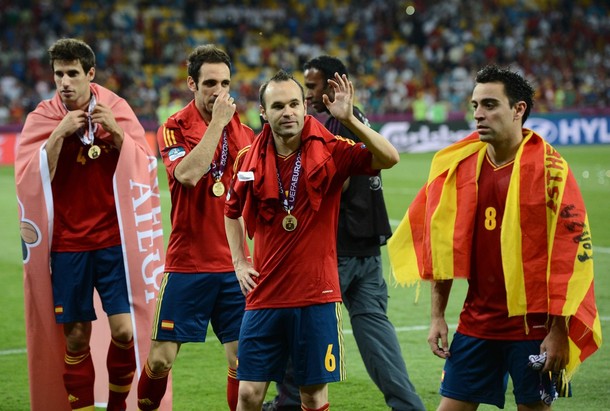 Andres Iniesta may not be able to tan, but the man can play some football. He is, of course, your Player of the Tournament, Spain's predetermined choice for the award were they to emerge with the spoils (Andrea Pirlo being Italy's choice). Oh, and it helps that he was brilliant in the final too.
Goalkeepers: Buffon (Italy), Casillas (Spain), Neuer (Germany).
Defenders: Piqué (Spain), Coentrão (Portugal), Lahm (Germany), Pepe (Portugal), Ramos (Spain), Jordi Alba (Spain).
Midfielders: De Rossi (Italy), Gerrard (England), Xavi (Spain), Iniesta (Spain), Khedira (Germany), Busquets (Spain), Ozil (Germany), Pirlo (Italy), Xabi Alonso (Spain).
Forwards: Balotelli (Italy), Fábregas (Spain), Ronaldo (Portugal), Ibrahimovic (Sweden), Silva (Spain).
Cesc slots in at forward ahead of a certain teammate, which means Vicente Del Bosque slots in to a reality show where he predicts the lotto for a sizable paycheck.
Meanwhile that teammate, Fernando Torres, wins the tournament's Golden Boot, one of six to score three, but tossing in a late assist as one tie-breaker and playing the fewest minutes (189) as the decider.
For a £50m bust, he's sure collecting a lot of big trophies. Go figure.
Subscribe

International Football News – World Cup Blog RSS Feed

Share
Comments are closed