Egypt's Ahmed Hassan Sets New Cap Record
February 29th, 2012 | by: chris |

Comments Off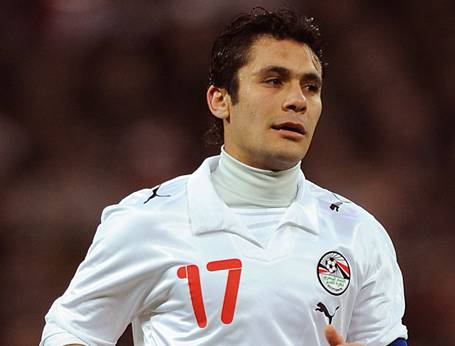 A pretty astonishing achievement was had for Egyptian captain Ahmed Hassan today, earning his 179th cap, which requires an advanced degree simply to count that high. The list is impressive stuff, if only because the top 5 includes not one but two named 'Hassan' from Egypt.
He's also not done, which leaves the possibility of a 200th cap in sight.

The list, via Wikipedia, undoubtedly steeped in truth:
179 – Ahmed Hassan, Egypt
178 – Mohamed Al-Deayea, Saudi Arabia
178 – Claudio Suárez, Mexico
169 – Hossam Hassan, Egypt
167 – Iván Hurtado, Ecuador
167 – Vitālijs Astafjevs, Latvia
164 – Cobi Jones, United States
164 – Adnan Al-Talyani, United Arab Emirates
158 – Sami Al-Jaber, Saudi Arabia
157 – Martin Reim, Estonia
Plus he had good things to say and deflected attention away from his record and onto the tragedy in Port Said. All around a very excellent performance from him.
"Of course I'm happy with that achievement, but my happiness is not complete. I'm still saddened over the death of Ahly fans in the Port Said disaster," the evergreen midfielder, who departed Ahly last summer to join arch-rivals Zamalek, said on his official website after the game.

"I've waited for that achievement for so long, but I hoped to get it in better circumstances."

"My career with Egypt is not over yet. Some people said I carry on playing with the national team to earn a personal achievement, this is completely untrue," he added.

"I will continue to serve the national team as long as I'm able to perform at the highest level."
This man should be hoisted aloft everywhere he goes just to save his creaking legs so that we can all see number 200 achieved.
Subscribe

International Football News – World Cup Blog RSS Feed

Share
Comments are closed