Diego Maradona is Argentina's New Coach?
October 28th, 2008 | by: Laurie |

View Comments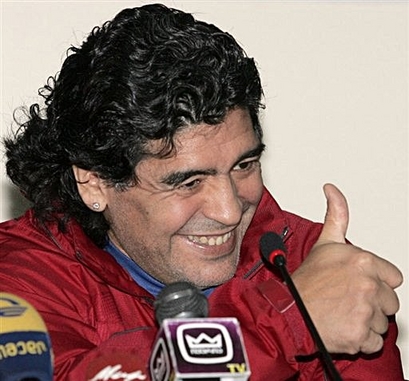 Brilliance or insanity? You tell us.
Former Argentinian superstar Diego Maradona has just been asked to be the new head coach for Argentina despite having no real coaching experience.
The original rumors coming out of Argentina hinted that Maradona would be asked to be the assistant coach. But can anybody familiar with Maradona's personality really see him as a #2? I can't.

As we said last week, Argentina has been struggling a bit in World Cup qualifying. Their shock loss to Chile this month brought about the resignation of previous coach Alfio Basile.
What do you think? Can "larger-than-life man of excess" equal "competent National Team coach?"
For more info, check out our Argentina World Cup Blog.
Subscribe

International Football News – World Cup Blog RSS Feed

Share
blog comments powered by Disqus