Death To The Vuvuzela
June 18th, 2009 | by: chris |

View Comments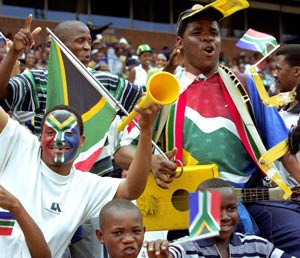 That giant swarm of insects you've been hearing at every Confederations Cup game is not, in fact, one of the Biblical Plagues migrating south. It's actually called a vuvuzela, and it's quintessentially South African. Problem is, it's also quintessentially obnoxious. If you've watched even 30 seconds of a Confederations Cup, you've surely noticed the all-enveloping buzzing sound – and chances are those horns are the reason you only watched 30 seconds.

For those (lucky few) who haven't heard…
What you may not know is they were actually banned before the Confederations Cup, what with multiple FIFA officials pouring blood out of their ears during initial visits to South African domestic matches. But given that they are now so rooted in the South African football experience, FIFA decided to allow them after all. Much to the dismay of a number of people, including the players, like Xabi Alonso:

"I think they should be banned. They make it very difficult for the players to communicate with each other and to concentrate. They are a distraction and do nothing for the atmosphere."
But Sepp's defending it. Sort of.
"It's a local sound and I don't know how it is possible to stop it. I always said that when we go to South Africa, it is Africa. It's not western Europe. It's noisy, it's energy, rhythm, music, dance, drums. This is Africa. We have to adapt a little."
Funny, I thought its lack of rhythm was precisely the problem. It's not harmonious, nor is it in rhythm whatsoever; it's just one long 90 minute droning sound. To the point you begin to wonder when the B-list horror movie is going to break out before your eyes. I've personally begun watching the games on mute – what with the combination of ESPN's commentary team and the vuvuzela capable of being substituted for lethal injection and all.
Certain portions of South Africa are even poking fun as a method of marketing their tranquility for tourism…
…so they surely realize it's a bit of overkill.
So while it's wonderful that they want to impart the true South African experience upon us, we can also assume they'd like us to return in the future. No one will return if we associate South Africa with impending deafness. Death to the vuvuzela.
Subscribe

International Football News – World Cup Blog RSS Feed

Share
blog comments powered by Disqus