David Beckham is Bad for the Environment
January 2nd, 2008 | by: Daryl |

View Comments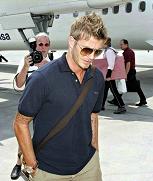 Bad news for Brand Beckham, as it seems Golden Balls' globe trotting lifestyle is slowly but surely destroying planet earth. According to climate watchdog Carbon Trust the former England captain has both "the biggest carbon footprint in the world" and "the largest carbon footprint in human history." Ouch. The reason for Beckham's dirty oversized environmental footprint can be summed up in two words: air fare.
Beckham spent much of 2007 jet-setting back and forth between Spain, England and the west coast of the United States to play for Real Madrid, England and the Los Angeles Galaxy respectively. Add in Beckham's trips around North America to MLS away games (including those that he watched while nursing that ankle) plus his and Posh Spice's various promotional paydays and the Becks-inspired Los Angeles Galaxy tour to Australia and New Zealand and it starts to become clear why Becks isn't too popular with the Carbon Trust. Factor in his fifteen cars (including a Hummer) and it's a wonder Al Gore doesn't just go round to Beckingham Palace and punch him square in the face.

It's possible Beckham is being targeted because of his name recognition, which will help Carbon Trust publicize their cause. And it seems to be working, as I'm writing about it right now. And it's only just occurred to me that Becks would be an ideal celebrity to promote environmental causes. Maybe he could make like Arnold Schwarzenegger and switch the Hummer over to hydrogen fuel for a start. Seems a bit much to ask Beckham to bring soccer to America and save the planet at the same time, but maybe this rare bit of bad publicity will make him think a little more about the latter while he's trying to do the former.
Subscribe

International Football News – World Cup Blog RSS Feed

Share
blog comments powered by Disqus