Danny Jordaan Cleanses His Soul
November 4th, 2010 | by: chris |

Comments Off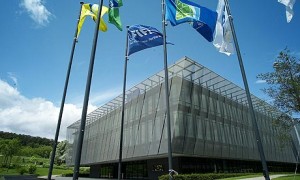 Now's probably not the best time to announce this, not with Sepp basking in his powerful glory and FIFA in heaps of trouble as it is, but alas, Danny Jordaan must cleanse his soul of all its evils.
Portuspain 2018 and Qatar 2022 have been accused of colluding for the upcoming World Cup decisions, supposedly agreeing to swap votes. While this is investigated by FIFA and a team of novice, possibly fictional, pre-teen sleuths, Jordaan, head of the South African World Cup, admitted they did as much to win this summer's World Cup.
He's got to stay relevant somehow.


The man who secured this year's World Cup for South Africa says he tried to get England to withdraw from the 2006 bidding by offering Nelson Mandela's support for a 2010 English bid.

While South Africa did get Brazil to pull out of the 2006 bidding, England stayed in the contest with South Africa—and the tournament went to Germany instead. "In the end we wanted a straight fight, so we sent an emissary to the English bid, but the English believed they were going to win 2006," Jordaan told the International Sports Event Management conference in London.

Jordaan recalled that England was told: "If you withdraw we will get Nelson Mandela to come to London, to praise you and say nice things about you, and then in 2010 you will be stronger because then you will have dealt with the difficulty of the debate of 1966-2006. But, of course, we didn't convince them."

Jordaan later said such deals would be harder to attempt now because bidding nations have lucrative deals with commercial partners that would prevent a late withdrawal.
England? Overconfident regarding a World Cup? Never.
As collusion is "explicitly forbidden" by FIFA, Jordaan is lucky that the South African World Cup is done and dusted, and nothing short of Sepp inventing a time machine (wait for next month's Forbes) can bring it back. Because it's not like he's involved with FIFA as part of FIFA's official inspection team. Oh, he is.
They just don't care to be subtle anymore, do they?
Subscribe

International Football News – World Cup Blog RSS Feed

Share
Comments are closed