Chile Hosts The Break's First Bender
November 9th, 2011 | by: chris |

Comments Off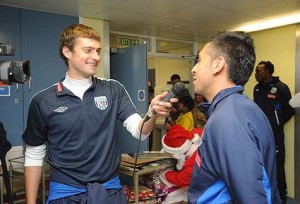 There are – or were, in a few cases -certain possibilities when it comes to international and the misbehavior of its participants: Gabriel Tamas might get drunk, Adrian Mutu might hit someone, Zlatan might care, the Czech national team may be found in the general vicinity of ladies of the night and someone somewhere in South America is going to get suspended for a party.
Players misbehave. It happens. But I'm not sure I've ever heard of someone showing up to training visibly sauced.
Welcome to the party, Chile.

Players land at training drunk; players land suspensions.
Chile kicked five players out of their 2014 World Cup qualifying squad after they returned late and drunk from an evening off, coach Claudio Borghi said on Wednesday.

The players had been given time off from midday to 10 p.m. on Tuesday, after morning training, Borghi said.

"Five players arrived 45 minutes late and not in a state adequate to a professional player. So I took the decision to withdraw them (from the squad)," the Argentine coach told a news conference.

He named the five as midfielders Arturo Vidal of Juventus, Jorge Valdivia of Palmeiras and Carlos Carmona of Atalanta, Birmingham City winger Jean Beausejour and West Bromwich Albion defender Gonzalo Jara who is on loan at Brighton & Hove Albion.
Let's try something here:
Gonzalo Jara, until recently, did play for WBA (he's on loan down the ladder right now), sitting on the same backline as Gabriel Tamas. You'll know Gabriel Tamas from such things as 'got kicked off the Romanian national team permanently* for being a bit of a lush', which also involved one Adrian Mutu. See where this is going?
Adrian Mutu is to blame for everything.
* – Apparently 'banned for life' is Romanian for 'three games', because they were back in October.
Subscribe

International Football News – World Cup Blog RSS Feed

Share
Comments are closed