Capitalism Gone Wild: Survive Stabbings At World Cup 2010 With Country-Identifying Proktektorvest.
January 12th, 2010 | by: chris |

View Comments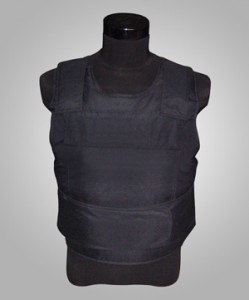 This is possibly in incredibly poor taste, but it's also incredibly hilarious. PROKTEKTORVEST (must be capitalized) is the newest fashion statement to be made at South Africa 2010 as a personalized knife-proof vest. That's right, you too can prevent stabs while rooting for your favorite team for only $69.95.
But that's not all!
Wait, yes it is.

Of course while this is obviously in response to the crime in South Africa, just wait until Wimbledon gets a grass-inspired vest named The Monica Seles. Or a giant puffy punch-proof vest in the shape of a basketball called The Ron Artest. Or body armor called Joey Barton's Teammate.
Suddenly, there's an incredible market for these things, eh?
They'll also be donating $1 from the purchase of each vest to a "knife crime charity". Does this involve things like getting a packet of plastic silverware sans butter knife? No one knows.
The PROTEKTORVEST has been manufactured to highest standards and wearing a vest can reduce the risk of being injured by a knife or other sharp object. The armour is flexible, multi-adjustable (sizes S – XXXL) and comfortable to wear for substantial periods of time. Most importantly it protects you from knife attacks in a world that is becoming increasingly dangerous.

Our PROTEKTORVEST offers effective protection from potential attacks from blades, knives, bottles and broken glass and turns your stab vest into a special and exclusive fan article.
* – Why would anyone buy anything other than XXXL? Isn't the idea to maximize surface area protected from stabbings?
Incredibly, nowhere on the website does it say this product is FIFA-approved.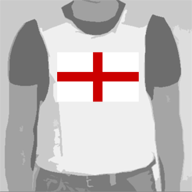 That red cross looks suspiciously like a target. And no doubt Japanese fans should stay well away from these.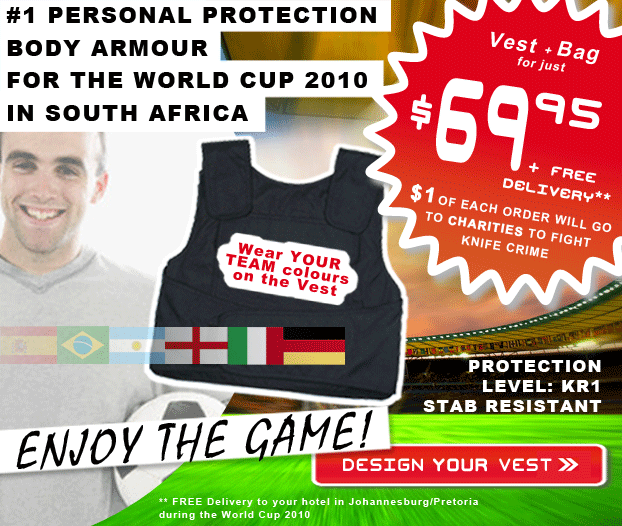 To be perfectly honest, at first this seemed a joke. It appears that's not the case. So do you need a stab-proof vest in South Africa? Probably not. Should you be careful? Probably. And what should you do if someone tries to stab you? Run like the wind and scream like a little girl.
Subscribe

International Football News – World Cup Blog RSS Feed

Share
blog comments powered by Disqus