Belgian Fans Do Human Trafficking
June 12th, 2012 | by: chris |

Comments Off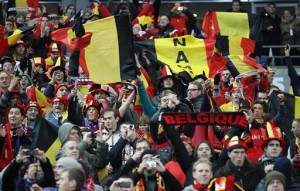 Nothing the international watchdogs would shame, really, though they make no mention of what they won't do in the name of UNICEF at the end of the procedure…
A bunch (20k or so) of Belgians offered up their services to fandom on ebay to any country willing to take them on for the remainder of the tournament. The disappointment of the tournament thus far, the Dutch (largest upset relative to expectations), decided quantity might just equate to quality. (Or one Dutchman, anyway.) Plus the commute is shorter and they can commiserate over losing World Cup 2018.
Ah, the meant to be…

The fans set up a Facebook group – 'Belgian soccer fans for sale for Euro 2012′ which has grown to 20,000 members, explaining they needed someone to shout for and would donate any proceedings from a buyer to UNICEF.

"Second hand but mint condition. Not been used since FIFA World Cup 2002.

"Once again we Belgians have no team to root for at the Euro 2012 soccer championship. Since tournaments are much more fun when you have a favourite team, we decided to put our fandom for sale at ebay," the group said, adding they would offer their allegiance to the highest bidder

"All profits will be sent directly to Unicef."
Of course this now begs the question: how much is a Belgian football fan worth?
An anonymous Dutch buyer stepped in and will donate the 3,000 euros to Nordschool, a UNICEF project providing education to children living in countries hit by conflict, one of the fans told Belgian daily Vers l'Avenir.
Not very much, it seems.
Subscribe

International Football News – World Cup Blog RSS Feed

Share
Comments are closed