Amauri: "I Don't Need a National Team"
January 2nd, 2009 | by: Daryl |

View Comments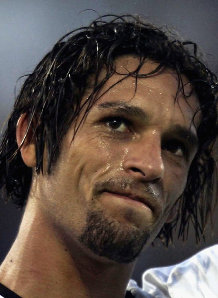 It's official, Juventus striker Amauri is sick of being asked about international football. The 28 year old is Brazilian by birth but will soon be Italian by passport, and both Dunga and Marcello Lippi have made positive noises about calling him up for the Seleção and Azzurri respectively.
So… World Cup holders or Copa America holders? I can think of plenty players who would love to have that decision in front of them. But not Amauri. He's so sick of all the speculation (he'd probably hate this post) that he's threatened to say no to whoever calls him up.
"It seems like I want to put myself up for auction between Dunga and Lippi," he told Italian daily La Repubblica.
"As that's not the case, this is the last time I'll address the subject. I won't open my mouth again until I receive an official call-up from one side or the other, if that happens.
"At that point I'll give my answer, which could be negative. I arrived at Juventus on my own legs, as a perfect unknown. That means I don't need a national team".
Quite a statement, eh? Especially with World Cup 2010 happening in about eighteen months time.
If you want to end the speculation, then why not just pick one? That would end it all pretty quickly.
So here's what I think should happen: If Amauri can't declare a preference, then he shouldn't be allowed to play for either. Instead, players like Amauri should have their international careers decided by FIFA, who could assign "homeless" players a new national team. I hear the Cook Islands are looking for a new striker…
Subscribe

International Football News – World Cup Blog RSS Feed

Share
blog comments powered by Disqus