Adding An Elephant To Polkraine's Psychic Circus
May 25th, 2012 | by: chris |

Comments Off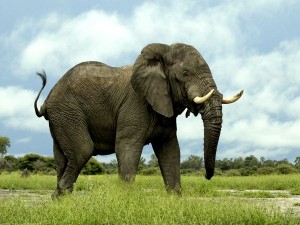 Bigger is better – at least when it comes to psychic animals. And ugliness remains a constant across the spectrum, it seems. Octopus, pig and now an elephant? Cuddly and prescient aren't compatible attributes.
With this being the first major tournament on the continent after the World Cup 2010: Paul's World, the psychic gimmick scene was bound to get hot. A pig was announced last week, and an elephant has been brought into the arc, leaving us to speculate the psychic call sheet will put Noah's beastly tally to shame by the time Qatar rolls around.

Luckily for us, this big girl comes sporting qualifications: she correctly picked the Champions League Final between Chelsea and Bayern, by choosing the most delicious apple of two. It happened to be Chelsea's. (But did she correctly predict penalties by removing the stem? No one knows.)
Also, more news of the pig which should come piggybacking some psychotropics.
Poland's answer to Paul the Octopus — the tentacled tipster who gained worldwide fame for his 2010 World Cup predictions — is Citta the elephant. Ukraine, however, will probably go for an enormous beer-loving pig — but there are big doubts about whether he can handle the media glare.

The zoo in the southern Polish city of Krakow settled on a temperamental 33-year-old female pachyderm from India while Ukraine — where slices of hog fat are the national dish — is contemplating a happier destiny for a 2-year-old already named Psychic Pig.

The pig has a fondness for beer and fries and grunts in pleasure when he watches matches on television with his farmer owner, his publicist claimed Tuesday. But he still needs some PR training before he is presented to the public.

Krakow zoo director Jozef Skotnicki said Citta, the apparently clairvoyant elephant, was chosen over a donkey, a parrot and another elephant after she correctly predicted that Chelsea would win the Champions League last week — the annual competition between Europe's top clubs. She made her winning pick by choosing an apple above a blue-and-white logo for Chelsea rather one from opponent Bayern Munich, which sports a red, white and blue logo.
Subscribe

International Football News – World Cup Blog RSS Feed

Share
Comments are closed