Netherlands World Cup History
May 7th, 2010 | by: Daryl |

View Comments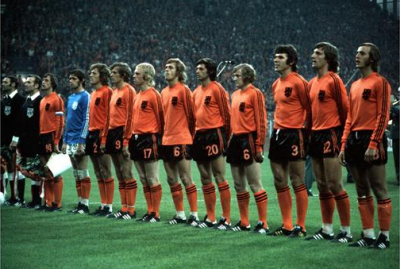 The Netherlands have twice made the World Cup final. Twice in the same decade in fact. And they've had some sublime moments, like Dennis Bergkamp's goal vs Argentina in 1998, and everything Johan Cruyff did in 1974. But they've not always been regular qualifiers (what happened in the '80s Oranje fans?) and are yet to win the trophy. Theirs is a unique story.
Read on for the Netherlands World Cup history, which starts all the way back in…
1934 World Cup in Italy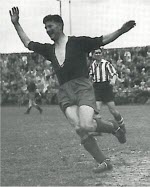 Honestly, I had no idea the Netherlands even had a football team before the '70s. Yet they competed at the second ever World Cup. I say competed, the tournament was a straight knockout and the Dutch lost 3-2 to Switzerland in the first round.
Englishman Bob Glendenning was on coaching duties, and the the first ever Dutch World Cup goal was scored by the absolutely brilliantly named Kick Smit, who would apparently go on to score 26 times in 29 appearances for the national team.

1938 World Cup in France
Glendenning and Smit were both back for another go in 1938, which was again a straight knockout. Hard to say if the second time went better or worse. The Netherlands held Czechoslovakia 0-0 for 90 minutes, but then lost 3-0 in extra time. And that was the last Dutch team to comepte in a World Cup until…
1974 World Cup in West Germany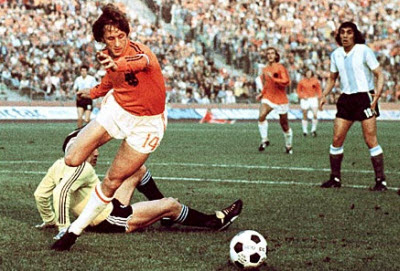 Hard to overstate the progress that Dutch football had made in this time. Domestic football went properly professional in the 1950s, but much of the credit for what happened next goes to the great coach Rinus Michels, who pioneered Total Football at Ajax Amsterdam in the late 1960s and early 1970s, along with his on-field leader, the legendary Johan Cruyff.
Michels and Cruyff led the Dutch into the 1974 World Cup, and this is what happened:
Cruyff was the star, but he wasn't the only player. Johan Neeskens was nearly as good, while players like Johnny Rep, Arie Haan and Ruud Krol are still held in the highest regard. The team sailed through Group B by beating Uruguay 2-0, drawing 0-0 with Sweden and then hammering Bulgaria 4-1. The Sweden game is most famous for the moment John Cruyff utterly confused Swedish right back Jan Olsson when he unveiled his Cruyff turn on the global stage.
In the second group stage the Dutch destroyed Argentina 4-0, beat East Germany 2-0 and then beat world champions Brazil by the same scorline. This was a team that looked ready to win the World Cup.
Two minutes into the final it looked even more likely, when – straight from kick off – a beautiful passing move resulted in Cruyff winning and Neeskens converting a penalty before the Germans had even touched the ball:
Unfortunately, the Netherlands couldn't hold on to that lead and allowed West Germany to both equalize and take the lead before half-time and then hold on to win 2-1. Cruyff was quoted about the 1974 team in World Soccer magazine recently, and had this to say:
"The World Cup in 1974 made Dutch football famous – and we lost! So losing the final, is it so bad? We were more famous than ever for losing, because everyone said we should have won … Winning isn't everything, it's how you play. If you win ten games and lose the eleventh, so what? It doesn't bother me that I never became world champion. We made a great achievement."
More on the 1974 Dutch team: The Bittersweet Brilliance Of Totaalvoetbal, 1974.
1978 World Cup in Argentina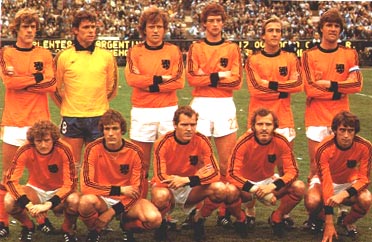 The Netherlands were back four years later, and back in the final too. But without Rinus Michels, who stepped down after the 1974 final, so Ernst Happel was in charge for the 1978 World Cup. The Netherlands were also without Johan Cruyff. The reasons for Cruyff's absence were mysterious at the time, but in a 2008 interview Cruyff revealed that a break in at his home and a kidnap attempt rendered him unwilling to travel to Argetina.
Many of the other stars of '74 went to the 1978 World Cup though, and the team came close to glory once again. They opened Group 4 with a 3-0 win over Iran, thanks to a Rob Rensenbrink hat-trick, but then drew 0-0 with Peru and lost 3-2 to Scotland. Those three points were enough to take second place and progress to the second round group stage, where the Netherlands stepped it up a notch.
A 5-1 demolition of Austria, a 2-2 draw with West Germany, and a 2-1 win over Italy meant that for the second consecutive tournament, there would be an Oranje team playing the hosts in the World Cup final.
Against Argentina in Buenos Aries, it was the Netherlands turn to concede first, when Mario Kempes burst between two defenders and slid the ball home in the 37th minute. Midfielder Dick Nanninga equalized with an 82 minute header, but Argentina pulled ahead and won 3-1 in extra time.
1990 World Cup in Italy
The Netherlands failed to qualify for the 1982 or 1986 World Cup, but finally won a major tournament with the famous European Championships victory of 1988, led by Ronald Koeman, Ruud Gullit, Frank Rijkaard and the brilliant striker Marco van Basten. That same core of players made the trip to Italy for the 1990 World Cup.
The group stage was tense. A 1-1 draw with Egypt, 0-0 with England and 1-1 with Ireland. But the Netherlands went through to the knockouts. Unfortunately rivals West Germany were waiting in the Round of 16, and – just like in 1974 – the Netherlands lost 2-1.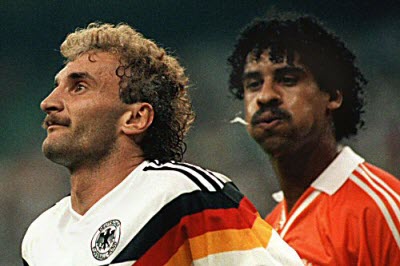 One of the less appealing moments from that game involved Frank Rijkaard and Rudi Völler. Both were sent off in the 22nd minute, and the cameras caught Rijkaard spitting in Völler's hair. I'm not sure how Völler noticed anything with that poodle perm, but still. Not the proudest moment in the history of Oranje.
1994 World Cup in the USA
Euro '88 veterans Ronald Koeman and Frank Rijkaard were still around, but Marco van Basten had retired through injury by this point, and so never got to score in the World Cup. New blood in the squad included the De Boer twins Frank and Ronaldo, and the new main man up front for the Netherlands was 25 year old Inter striker Dennis Bergkamp. The man in charge was Dick Advocaat.
As in 1990, the group was stage was tight. But the Netherlands finished top with six points thanks to a 2-1 win over Saudi Arabia (winger Gaston Taument with an 86th minute winner), a somewhat surprising 1-0 defeat to neighbours Belgium, and a 2-1 victory over Morocco (Bryan Roy scoring the all-important winning goal).
Second Round opponents were Ireland, who were beaten by first half goals from Bergkamp and Wim Jonk, and so Netherlands progressed to the quarters, and a game against Brazil.
Romario and Bebeto had made it 2-0 to Brazil after 63 minutes, but the Dutch refused to lie down. A composed finish from Bergkamp (not as composed as in 1998, but still impressive) and then a header from Aron Winter made it 2-2 in the 76th. Superb comeback. But then Brazilian left back Branco won himself a free kick from long range and sent a bullet past Ed De Goey in the 81st minute. The Netherlands were out, but they'd provided an excellent game of football. Plus, no spitting.
1998 World Cup in France
Dennis Bergkap was back for 1998, as were the De Boers. New squad members included Patrick Kluivert, Clarence Seedorf and the medically necessary sunglasses wearing Edgar Davids. Not a bad squad at all, and the in-fighting that had ruined Euro '96 seemed to be gone. Even better, Guus Hiddink was in charge.
The group stage opened with a 0-0 draw against Belgium. Not ideal, but that was followed by a 5-0 tonking of South Korea. Part of me now thinks Hiddink took the South Korea job for 2002 as an apology for inflicting such a beating in 1998. A 2-2 draw against Mexico was enough to top the group.
Second Round opponents were Yugoslavia. Dennis Bergkamp scored in the first half, Yugoslavia equalized in the second. With the whistle about to go, and the uncertainties of extra time visible on the horizon, Edgar Davids stepped up and did this:
The quality of that video doesn't do it justice, but basically it was a great long range effort. Especially from a man who was having a blinder of a World Cup as a defensive midfielder.
Next up: Argentina in the quarter-finals and that goal from Dennis Bergkamp. As against Yugoslavia, it was 1-1 with extra time approaching. Then Bergkamp did this in the 89th minute:
I've already gushed about this goal elsewhere. If you want to read the article, please click: Dennis Bergkamp's goal vs Argentina, 1998.
So on to the semi-final. Against Brazil. Ronaldo put Brazil ahead, but the Dutch once again came good with time running out, as Patrick Kluivert scored an 87th minute equalizer. However, my favourite moment from this game is this bit of defensive hustle from Edgar Davids:
It wasn't all good though. The game went to penalties, where Philip Cocu and Ronald De Boer both missed and Brazil went though. The Dutch then lost the third-place playoff game to Croatia and finished fourth overall.
2006 World Cup in Germany
Incredibly, the Netherlands failed to qualify for the 2002 World Cup. But were back and ready for action in 2006, with former striker Marco van Basten in charge. There was a bit of tension between van Basten and star striker Ruud van Nistelrooy and midfielder Mark van Bommel, but the squad also featured the talents of pacy (and prematurely balding) winger Arjen Robben, hard working Dirk Kuyt, bullet footed midfielder Wesley Sneijder.
Despite being in the Group of Death, the Netherlands qualified in second place with seven points thanks to a 1-0 win over Serbia & Montenegro, a 2-1 win over Ivory Coast, and a 0-0 draw against Argentina.
However, it was the Second Round game against Portugal that we'd all remember. Nicknamed The Battle of Nuremberg, Russian referee Valentin Ivanov showed 16 yellow cards in this game, four of which resulted in red cards. A new FIFA record. The Netherlands received seven of those yellows, and red cards for Khalid Boulahrouz and Gio van Bronckhorst.
The game finished 1-0 to Portugal, but the cards and fouls are way more interesting. My overriding memory is of seeing Boulahroz, van Bronckhurst sitting on what the Guardian dubbed "the naughty step" an discussing the refereeing with fellow ejectee Deco of Portugal. In the interests of fairness, I'll simply post the same video that Chris did in his Portugal World Cup history earlier today:
How far would the Netherlands have gone in 2006 if not for the cards show by Ivanov? We'll never know. What I do know after writing this post is that an Oranje team at the World Cup guarantees that something will happen.
Netherlands World Cup History:
1934 – First Round
1938 – First Round
1974 – Final
1978 – Final
1990 – Second Round
1994 – Quarter-Finals
1998 – Semi-Finals
2006 – Second Round
- More World Cup histories.
- Buy a Netherlands World Cup jersey.
- Visit Jan at Netherlands World Cup Blog.
Subscribe

International Football News – World Cup Blog RSS Feed

Share
blog comments powered by Disqus