England World Cup History (Part I: 1950 – 1970)
April 28th, 2010 | by: Daryl |

View Comments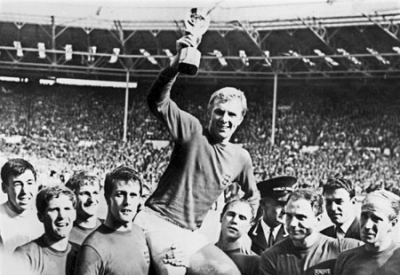 Before I start typing this, and before you start reading, I should 'fess up that I'm an England fan. Hopefully I'm not too biased and can write a post about the World Cup history of England in an objective manner. Even when discussing the events of 1966 and 1986. But I thought it was only fair to warn you before we get started.
The England football team is the joint oldest in the world, with he first international match being between England and Scotland in 1870. So England should have loads of World Cups, right? Unfortunately, England didn't play at their first World Cup until 1950 Why? Mostly arrogance. England left FIFA in 1928 (two years before the first World Cup) and didn't rejoin until 1948. So the Three Lions managed to miss the first three World Cup tournaments, which means we pick up the story in 1950.
1950 World Cup in Brazil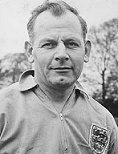 The 33 year old Walter Winterbottom (pictured) was the England manager, as he would be until 1963. That's one manager going to four World Cups. The squad England took to Brazil for their first ever World Cup featured some big names: Tom Finney, Stanley Matthews, Billy Wright, Jackie Milburn, Stan Mortensen. It reads like a list of English football legends. Even future boss Alf Ramsey was playing.
Things started well enough. Stan Mortensen scored England's first ever World Cup goal in a 2-0 win over Chile. But then it all went downhill with a famous 1-0 defeat the USA. We won't go into that here (but will go into later in the USA World Cup history post) except to borrow an anecdote quote from the BBC's American pundit Sean Wheelock:
A 37th-minute goal by French-speaking Haitian immigrant Joe Gaetjens, the brilliant goalkeeping of Frank Borghi, and some amazingly good luck, produced an unimaginable scoreline.

So much so that many newspapers around the world reported the result as a victory by England of 11-1 or 10-0, believing that a typographical error had occurred in the transmission "US 1-0 England".
Obviously a huge result for the USA. But a huge result for England in many ways. A wake up and smell the coffee tea moment, where England suddenly weren't the kings of world football. England had been so confident of victory that Stanley Matthews hadn't even played in the first two game. That defeat against the USA was followed by a further 1-0 defeat to Spain, and England making a First Round exit from their first World Cup.
1954 World Cup in Switzerland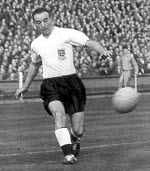 More big names went to Switzerland. Tom Finney and Billy Wright returned, arcehtypal lead-the-line English centre forward Nat Lofthouse was in the squad, and a 39 year old Stanley Matthews (pictured) was still going strong, and available to play from the start.
England finished top of Group 2 after a 4-4 draw with Belgium (which would have been a win if not for a 94th minute Jimmy Dickinson own goal) and a 2-0 win over Switzerland.
England faced Uruguay in the quarter-final and lost 4-2. Making it to the knockout round was at least progress from 1950, but it wasn't even close to a World Cup win.
1958 World Cup in Sweden
1958 was the third World Cup for veterans Tom Finney and Billy Wright, but the squad also featured a 20 year old attacking midfielder by the name of Bobby Charlton, and a 25 year old forward name Bobby Robson.
England had three straight draws in Group 4. First against the Soviet Union (England were 2-0 down after 56 minutes, but came back to draw 2-2 with Tom Finney equalizing from the spot in the 85th minute), then a goalless draw with eventual winners Brazil and a 2-2 draw against Switzerland (where England twice came from behind). The result was a playoff. England vs the Soviet Union to take second place behind Brazil and qualify for the knockouts. The Soviet Union won 1-0.
1962 World Cup in Chile
This would be Walter Winterbottom's fourth and final World Cup in charge of England, with the squad featuring a smattering of the names that would be part of the win in 1966. Bobby Moore and Bobby Charlton were both involved, as was a young Jimmy Greaves.
England lost the opening group game 2-1 to Hungary, but then beat Argentina 3-1 in the second game with goals from Ron Flowers, Bobby Charlton and Jimmy Greaves. A 0-0 draw against Bulgaria in the final group game meant England were lucky to advance in second place, thanks to goal average. Which is like goal difference, but a bit more complicated.
In the quarter-final, England faced Brazil and were dismantled by the brilliance of Garrinch, who scored two as Brazil won 3-1. England's best moment of the game comes from Jimmy Greaves, who successfully caught a dog that had run onto the pitch:

Read the full story: When Jimmy Greaves Turned Dog Catcher.
1966 World Cup in England
Alf Ramsey took over from Walter Winterbottom in 1963, with the aim of finally winning the World Cup when England hosted in 1966. Ramsey's team made a nervous start by drawing 0-0 with Uruguay, but followed that up by beating Mexico 2-0, with the first goal being a Bobby Charlton classic:
A 2-0 win over France followed (Roger Hunt scoring both goals) and England finished top of Group 1.
Quarter-final opponents were Argentina, and the game that began a rivalry. In the interests of objectivity, I'll simply repost what I posted in the Argentina World Cup history article:
Argentina captain Antonio Rattín (an imposing and impressive 6′4″ midfielder) was sent off in the 35th minute by German referee Rudolf Kreitlein for "violence of the tongue" while disputing a decision (despite Kreitlein apparently speaking no Spanish).
Rattín refused to leave the field and staged an impromptu protest by walking on the royal red carpet which was reserved for the Queen and wrinkling the British flag while making his eventual exit. Scandal at the time, brilliant entertainment now:
It's also said that this is the game that led to the invention of the red and yellow card system. So there's something. England went on to win the game 1-0 with a goal from Geoff Husrt (in for the injured Jimmy Greaves) and the England vs Argentina rivalry was born. The two would meet again in 1986.
Semi-final opponents were Portugal, and the star of the 1966 tournament Eusebio. The great man scored, but only after Bobby Charlton had scored twice:
My favourite thing about that clip is how the commentator keeps referring to the 1966 World Cup as "the series". Very quaint.
So on to the final, England vs West Germany at Wembley:
West Germany scored early, England equalized through Geoff Hurst. 1-1. England took the lead late though Martin Peters, but West Germany equalized in the 89th. So on to extra time, where Geoff Hurst scored probably the most controversial World Cup final goal there'll ever be.
Read the full article: Geoff Hurst 1966: Did it Cross the Line?
Hurst scored a third to claim a famous World Cup final hat-trick (maybe), to make it 4-2 and give England its first ever World Cup win.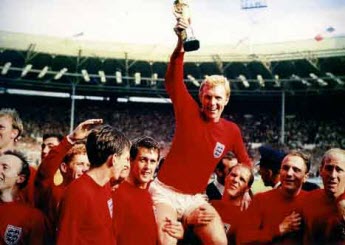 1970 World Cup in Mexico
Alf Ramsey was still in charge, and much of the 1966 squad returned for another tilt at the title. England were drawn into Group 3 with Romania, Czechoslovakia, and Brazil, setting up a hotly anticipated game between teh champions, and Pele's team. It didn't disappoint.
It's almost impossible to list all the great moments from this game, but from an England perspective the two standouts are Gordon Bank's save from Pele's header:

Read the article on England World Cup Blog: Gordon Banks' Save
And Bobby Moore's brilliant tackle on Jairzinho:

Read the full article: The Bobby Moore Tackle
Though England fans remember the game fondly, and the encounter produced the inconic image of Bobby Moore and Pele swapping shirts after the game, the scoreline says that England lost 1-0 to Brazil. However, Ramsey's men qualified for the knockout round with a 1-0 win over Czechoslovakia, which secured second place behind Brazil.
The quarter-final opponents were West Germany. Again.
England were 2-0 up after 49 minutes and looking like semi-final certainties. But then Franz Beckenbauer scored an excellent goal in the 68th, Bobby Charlton was substituted in the 70th and Uwe Seeler equalized in the 76th. In a reversal of the 1966 final, West Germany won 3-2 in extra time with a close range finish from Gerd Muller.
Rob has suggested on the England blog that Peter Bonetti playing in goal for England instead of Gordon Banks (who was struck down with food poisoning) is what decided this game. Certainly he looks questionable for West Germany's goals, but Bonetti surely can't take all the blame for England turning a two goal lead into a World Cup exit.
Incredibly, it would be twelve years before England returned to the World Cup. Which is where we'll pick up England's World Cup history in Part II.
Read: England World Cup History (Part II: 1982-2006)
- More World Cup team histories.
Subscribe

International Football News – World Cup Blog RSS Feed

Share
blog comments powered by Disqus