Brazil World Cup Team History: Part III (1974-1990)
March 8th, 2010 | by: Daryl |

View Comments
Part I (1930 to 1954) – Part II (1958 to 1970) – Part III (1974 to 1990) – Part IV (1994 to present)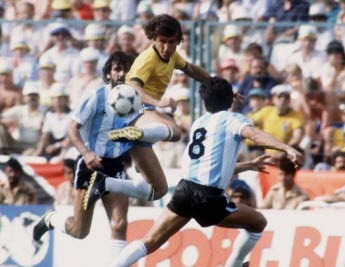 In Part I of Brazil's World Cup history, we covered the barren years of 1930 to 1954. In Part II we reveled in the golden years of 1958 to 1970, which yielded three World Cup triumphs and permanent possession of the Jules Rimet trophy. But the good times can't go on forever, and if one national team continued to win the World Cup 75% of the time (as Brazil did from '58 to '70) then we'd probably all stop watching. So in Part III we recap Brazil's post-1970 trophyless spell. Plenty of good football (especially from the Brazil team of 1982) but no World Cups from 1974 to 1990.
1974 World Cup in West Germany
Brazil went to the 1974 World Cup as holders, but without key 1970 players like Pele (who had retired from international football) and Carlos Alberto (knee injury). Still, any team with Jairzinho and Rivelino could be expected to make a decent stab at World Cup glory, especially with 1970 coach Mário Zagallo still in charge.
Brazil started the group stage with two consecutive 0-0 draws vs Yugoslavia and then Scotland, and only scraped through in second place after a 3-0 win over Zaire gave them a goal difference one better than Scotland. The win over Zaire is probably most famous for the unorthodox way that Zaire's Ilunga Mwepu chose to deal with a Brazilian free kick:
The full story behind Ilunga Mwepu's moment of madness can be found here.
In the Second Round group stage, Brazil beat East Germany 1-0 and then claimed what I imagine was a very satisfying 2-1 win over Argentina with goals from Rivelino and Jairzinho. But then in the final group game, which was in effect a World Cup semi-final, Zagallo's Brazil faced the Total Football of 1974's surprise team, the Netherlands:
Brazil lost 2-0, with the two Johan's – Neeskens and Cruyff – getting the goals. Brazil had been the darling of the football world for their beautiful play in 1970, but now that honour belonged to the Dutch. Brazil went on to lose the third place playoff game 1-0 to Poland.
1978 World Cup in Argentina
Mario Zagallo lost his job after the 1974 World Cup. By the time of the 1978 World Cup, Cláudio Coutinho was in charge. The squad was more or less overhauled with only goalkeeper Leão and a now 32 year old Rivelino remaining from 1974. Amongst the fresh talent was a 25 year old attacking midfielder by the name of Zico.
Two things to note about Brazil's 1978 World Cup. First is that they went undefeated. Second is that they exited in controversial fashion. Brazil drew with Sweden and the Spain in the First Round group stage, before beating Austria to progress. The Second Round group stage saw them face Peru, Poland and rivals Argentina. Get ready for the controversy.
Brazil beat Peru 3-0 and then drew 0-0 with World Cup hosts (and of course, eternal rivals) Argentina in what looks like a violent game:
But that's not the controversial part. The controversy came in the final group games, with Brazil and Argentina level on points and scheduled to play Poland and Peru respectively. Brazil played Poland earlier in the day and won 3-1, and so hosts Argentina knew that a victory by four goals or more would send them through and knock Brazil out. Argentina won 6-0.
There are suggestions that Peru were bribed to throw the game. I honestly don't know. What's clear is that it's unfair for one team to play later in the day than the other and therefore have the advantage of knowing what they need to do to go through. It's because of this controversy in 1978 that we now have simultaneous kickoffs for all group game finales.
1982 World Cup in Spain
The 1958, 1962 and 1970 World Cup winning teams are fondly remembered. But the 1982 team is equally loved for their fantastic attacking football, despite the fact that they failed to deliver the trophy.
Telê Santana was the coach, and he loved to attack. This worked out nicely because the attacking players at his disposal included Zico, Socrates, Falcão, Junior and Serginho. This team played the sort of football that Brazilian teams now only play in Nike commercials. Here's a taste of the magic featuring some of the best passing moves you'll ever see, first touches that look CGI rendered, and free-kicks from Zico that defy the laws of physics:
OK, maybe I went a bit overboard with the praise there. But damn this team was impressive. They romped through the group stage by beating the USSR 2-1 with a goal two minutes from time, spanking Scotland 4-1 and then New Zealand 4-0.
In the Second Round group stage they faced Argentina (again) and Italy. Santana's Brazil absolutely demolished Argentina, winning 3-1 with goals from Zico, Serginho and Junior. Revenge from 1978, and Brazil now looking clear favourites for the 1982 World Cup. All they had to do was avoid defeat against Italy, and a place in the 1982 World Cup semifinal was theirs.
Brazil lost 3-2 to a Paolo Rossi hat-trick and exited the tournament, but Brazil 2-3 Italy will go down as one of the greatest games ever played in the World Cup. Not as good as winning the trophy, but a part of history nonetheless.
1986 World Cup in Mexico
Telê Santana and his attacking team had another crack at World Cup glory in 1986. Santana had resigned after the 1982 defeat to Italy, but was persuaded to return one year before the 1986 tournament. New to the squad was pacy São Paulo striker Careca, while Zico, Socrates, Falcão and Junior all returned but were now into their 30s, with Zico in particular battling against injuries.
Santana wasn't quite as gung-ho as in 1986, but Brazil still had a 100% record in the group stage, beating Spain and then Algeria 1-0, before dispatching Northern Ireland 3-0. In the Round of 16 Brazil destroyed Poland 4-0 and were starting to look like their old selves again. The quarterfinal opponents were the Michel Platini-inspired Euro '84 champions France, and the result was yet another World Cup classic. Check out the passing move that leads to Careca's opening goal:
France made it 1-1 through Platini before halftime. In the second half the now fit(tish) Zico came on and almost immediately sent Branco through, one one one with French keeper Bats, who brought Branco down for a penalty. Zico himself stepped up to make it 2-1, but Bats saved. The game finished 1-1 and went to a penalty shootout. Zico semi-redeemed his miss by scoring in the shootout but Brazil still lost as both Sócrates and Julio Cesar missed. Horrible end to Zico's World Cup career. Seems like every footballing nation, no matter how successful, has a penalty kick related tragedy to tell.
1990 World Cup in Italy
It's harsh to say that Sebastião Lazaroni's 1990 Brazil squad was poor. Any team featuring Jorginho, Dunga, Bebeto and Careca, and with a half-injured Romario on the bench can hardly be called poor. But for some reason Brazil's 1990 World Cup squad was not particularly memorable. Part of the problem was trhat Lazaroni himself was not particularly well known. Another is that he wasn't too fond of attacking.
Brazil progressed through the group stage with three one goal victories. 2-1 over Sweden, followed by back to back 1-0 wins over Costa Rica and Scotland. Job done, but nothing to get too excited about. In the Round of 16, Brazil were drawn against old rivals Argentina. Is it me or did these two used to be magnetically attracted to each other in World Cup draws?
The game became infamous for the "holy water scandal" after left back Branco claimed the Argentinean staff passed him a water bottle laced with tranquilizers during the game. As I said when addressing this in the Argentina World Cup history post: "…there's a very simple lesson to be learned here: Don't ingest anything given to you by your biggest international rivals in a World Cup game." Argentina won the game 1-0 after Diego Maradona dribbled through multiple Brazilian defenders and set up Claudio Cannigia.
If any Brazil fans are feeling a bit down after having to see that again, then don't worry. Next post will cover the years 1994 to present, and the return to winning ways.
More Brazil World Cup History: Part I (1930 to 1954) – Part II (1958 to 1970) – Part III (1974 to 1990) – Part IV (1994 to present)
Subscribe

International Football News – World Cup Blog RSS Feed

Share
blog comments powered by Disqus