Brazil World Cup Team History: Part I (1930 – 1954)
February 17th, 2010 | by: Daryl |

View Comments
Part I (1930 to 1954) – Part II (1958 to 1970) – Part III (1974 to 1990) – Part IV (1994 to present)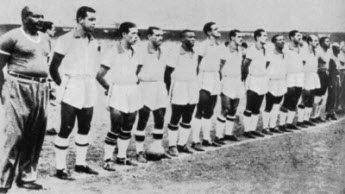 OK, I'll admit it. I've been putting off writing this post about Brazil's World Cup history. Mostly because there's so much of it. Not only has Brazil won a record five (FIVE!) World Cups, it is the only team to have appeared in every single World Cup tournament. From the first one in 1930 to the present day. In fact it's tempting to skip writing a proper post about Brazil's World Cup history and maybe just embed this video of applause instead. But then we'd miss out on all the excellent YouTube videos of Garrincha, Pele, Ronaldo and co.
We're going to have to split this into three parts though: Part one (this part) will cover 1930 to 1954. Perhaps surprisingly, Brazil's early World Cup record is not all that impressive…
1930 World Cup in Uruguay
At the 1930 tournament Brazil were drawn into Group 2 with Bolovia and Yugoslavia. They lost their first every World Cup game 2-1 to Yugoslavia and beat Bolivia 4-0 in the second game. But that was that. Brazil finished second in the three team group and failed to advance to the second round. This poor result is mostly blamed on the rivalry between the states of Sao Paulo and Rio. Apparently Sao Paulo representatives were excluded from the committe to travel to Urgugay, and so in retaliation Sao Paulo clubs refused to release their players for the national team. Captain Preguinho scored three of Brazil's five goals in Uruguay, but other than his contribution, Brazil's 1930 World Cup is best forgotten.
1934 World Cup in Italy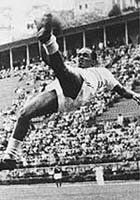 The Brazil team crossed the Atlantic by boat for the 1934 World Cup tournament in Italy, which was a straight knockout with no group stage. They lost 3-1 to Spain in the opening game, and were out. So after 15 days on a boat, Brazil's tournament was over after 90 minutes. Ouch. Divisions were once again to blame for the poor performance, with arguments erupting over the issue of professionalism vs amateurism. But I'm sure that spending more than two weeks on a boat didn't help anybody.
The one bright spot was Leônidas da Silva (pictured), scorer of Brazil's only goal. Leônidas is to some extent credited with popularizing the bicycle kick. He'd get a few more goals in the next tournament.
1938 World Cup in France
This is where Brazil started getting it together. The 1938 World Cup was a similar format to 1934, a 16 team knockout from the get go. Brazil opened with what sounds like one of the most exciting World Cup games ever, vs Poland. It was 4-4 after 90 minutes, and 6-5 to Brazil after extra time. Leônidas da Silva (Brazil's only goalscorer form 1934) scored four, as did Poland's Ernest Wilimowski. I can't even imagine how good that game was. In the quarter-final Brazil drew 1-1 with Czechoslovakia, and then won the replay (yep, they had replays back then instead of penalty shootouts) two days later. Leônidas scored in both games.
For reasons best known to coach Ademar Pimenta, Leônidas was left on the bench for the semi-final vs Italy, and Brazil lost 2-1. They did win the 3rd place playoff vs Sweden 4-2 though, with Leônidas scoring another two and finishing the tournament as top scorer with seven. So third place and a Golden Boot winner. Brazil were getting serious. But thanks to World War II, there'd be no more World Cup until 1950.
1950 World Cup in Brazil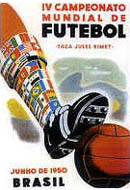 Brazil fans will never forget the 1950 World Cup. But not in a good way. It was the first World Cup following World War II, and the first World Cup to be hosted by Brazil. The slightly odd format featured no knockout games, but rather a First Round group stage followed by a Final Round group stage featuring the four best teams. Whoever topped that group won the World Cup.
Brazil waltzed through the first group stage playing some attractive attacking football that showcased the talents of Zizinho, Jair and Ademir, beating Mexico and Yugoslavia, and drawing with Switzerland. The Final Round group contained Brazil, Uruguay, Spain and Sweden. Brazil hammered Sweden 7-1 and Spain 6-1, and so just needed to avoid defeat vs Uruguay in the final game at the Maracanã.
To say that the Brazilian people expected their team to lift the trophy is an understatement. Brazil had looked unstoppable against Sweden and Spain, while Uruguay had stumbled through a draw and a narrow win. There was only one favourite, and somewhere between 170,000 and 210,000 people packed the Maracanã to see Brazil finally win the World Cup.
Except it didn't happen like that. Though Friaça made it 1-0 to Brazil at the start of the second half, Uruguay equalized in the 66th minute through Juan Alberto Schiaffino and won the game 2-1 with a goal from winger Alcides Ghiggia in the 79th minute. Uruguay were world champions and the Maracanã was silent. Here's a shortish video about that 1950 final:
Read the full story: Alcides Ghiggia Silences the Maracana in 1950.
The disaster that was Brazil's failure to win the 1950 World Cup cast a long long shadow over not just Brazilian football, but Brazilian society too. There was a curious backlash againt the black players in the squad, particularly goalkeeper Barbosa, who was made the scapegoat for the defeat. The BBC's South America football expert Tim Vickery has written that the vilification of Barbosa is probably the main reason the Brazilian national team failed to select another black goalkeeper for decades afterwards.
The 1950 World Cup is also the reason for Brazil's current canary yellow jerseys. From the national teams beginning until the disaster against Uruguay, Brazil wore white shirts with a blue collar. In direct response to the events of 1950, these shirts were abandoned, and the Brazil shirts we're so familiar with today were adopted instead.
1954 World Cup in Switzerland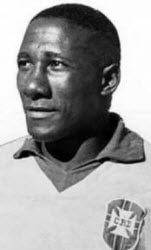 Because 1950 had been oh so painful, Brazil's 1954 World Cup featured few of the same names. You might think it's insane to rip apart a talented team because of one measly defeat. Brazil didn't. Though I suppose it's less insane when you have defenders like Djalma Santos (pictured left, and apparently a very similar player to Cafu) and attackers like Didi to bring in. Obviously Brazil's mission in Switzerland was to erase the memory of 1950 and bring the World Cup home.
It started well enough. A 5-0 win over Mexico and a 1-1 draw with Yugoslavia was enough to see Brazil through the group stage in first place. But in the quarterfinals Brazil faced favourites Hungary, and the Might Magyars went 2-0 up inside 10 minutes and eventually won the game 4-2.
You may notice that we're now five World Cups in and Brazil has precisely zero World Cup victories. But don't worry Brazil fans, the good times will begin in 1958, and in Part II of this Brazil World Cup Team History…
- For more on Brazil, read Duvel's Brazil blog.
- More World Cup Team Histories here.
More Brazil World Cup History: Part I (1930 to 1954) – Part II (1958 to 1970) – Part III (1974 to 1990) – Part IV (1994 to present)
Subscribe

International Football News – World Cup Blog RSS Feed

Share
blog comments powered by Disqus