World Cup 2010 Qualifying: Basile Gambles on Riquelme and Wins
November 20th, 2007 | by: Daryl |

View Comments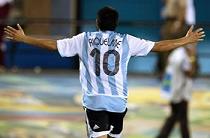 Argentina may have suffered an embarrassing 3-0 defeat at the hands of Brazil in this summer's Copa America final, but that shouldn't detract from the incredible football Alfio Basile's team played all the way up to the big game. Despite subsequent calls for Argentina to become less attractive and more effective, Basile has stuck to his guns and been rewarded with more flowing football and a perfect played three won three, scored seven, conceded none start to World Cup 2010 CONMEBOL Qualifying. Key to all this was Basile's decision to stick with lazy genius Juan Roman Riquelme, even when it became clear the playmaker would be rotting away in Villarreal limbo this season.

Riquelme hasn't played any club football at all this season, and with calls for a more disciplined and hardworking Argentine team, it would have been easy to tell the midfielder thanks but no thanks. Basile basically had an easy out. But instead, he gambled his reputation on Riquelme's talent and so far it's paying off, as the number 10 has been outstanding and Argentina top the table. During Argentina's 3-0 win over Bolivia on Saturday, Riquelme scored another perfectly placed free kick to add to the two he got against Chile in October…
…before finishing off Bolivia with this exquisite finish after a determined Leo Messi run.

It's pretty clear he'll never play for Villarreal again, but surely someone somewhere has to see what Riquelme's doing in the albiceleste and make the Spanish club an offer, permanent or temporary. There's been talk of him returning on loan to Boca Juniors, where he won the Copa Libertadores last year, but I'd much rather see him loaned to another European team. There are plenty of Premiership sides crying out for a creative spark that could afford Riquelme's wages (Newcastle, Middlesbrough, Tottenham, West Ham) so why not take a gamble on him? It worked for Alfio Basile.
Subscribe

International Football News – World Cup Blog RSS Feed

Share
blog comments powered by Disqus