Brazil Qualify for World Cup 2010, Argentina Still Sweating
September 5th, 2009 | by: Daryl |

View Comments
Brazil officially qualified for World Cup 2010 tonight, and did it by beating rivals Argentina 3-1. In Argentina. Luis Fabiano bagged two goals, Luisao got the other, Jesus Datolo scored for Argentina.
So that's eight down, 24 to go, as Brazil join Australia, Japan, North Korea, South Korea, the Netherlands, Ghana and hosts South Africa. Brazil have played in every World Cup, ever, going all the way back to 1930.
Things aren't so rosy for Diego Maradona's Argentina. The loss leaves them in fourth place in CONMEBOL World Cup qualifying, the last automatic qualifying berth. If they slip to fifth they'll face a playoff, slip to sixth and they're not going.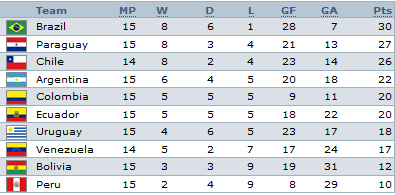 No doubt Argentina fans will take this defeat hard, but with three games to go it's still too early to panic. However, Argentina play second place Paraguay away on Wednesday. Defeat there and it's time to start worrying.
Subscribe

International Football News – World Cup Blog RSS Feed

Share
blog comments powered by Disqus