Bluffer's Guide to the World Cup 2010 Qualifying Finale
October 9th, 2009 | by: Daryl |

View Comments
This was originally published on Wednesday, with a couple of errors in it. Now it's back and (hopefully) error free, just in time for this weekend's WCQ…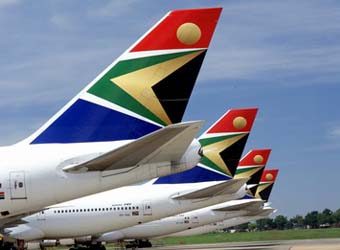 We've got two World Cup qualifying dates in the next seven days: Saturday, October 10th and Wednesday October 14th. These are the final two games for the majority of teams.
So it's kind of important. It's also about this time that people start asking things like "so, can Sweden qualify or not?", because they haven't been paying attention.
Below is a bluffer's guide, a rough overview to what's happening in each confederation, which teams have already qualified, which teams can still qualify, who needs what. That kind of thing.
It's by no means complete, but reading it will hopefully get you through a casual conversation about World Cup 2010 qualifying and leave the other person thinking you know what's what.
Of course, if you're one of the studious types that actually does know what's what, then please feel free to add more detail in the comments.
---
AFRICA
Five World Cup spots, plus one for the host. Five groups. Only winners of each group qualify.
Already qualified: South Africa (as hosts), Ghana.
Nearly qualified: Côte d'Ivoire are running away with Group E.
Big boys in trouble: Egypt and Nigeria. Incredibly, Senegal didn't even make it to this stage of qualification.
Group A is close between Cameroon (7pts) Gabon (6pts) and Togo (5pts). Group B has Tunisia leading Nigeria by two points. Group C has Algeria ahead of Africa Cup of Nations champs Egypt by three points.
Games to watch:
Zambia vs Egypt (October 10th) (must-win for the Pharaohs)
Cameroon vs Togo (October 10th)
Nigeria and Tunisia are both at home (to Mozambique and Kenya respectively) and expected to win, but are both away in November.
---
ASIA:
4.5 World Cup spots. Group stage is over. Just the playoff vs Oceania winners to go.
Already qualified: Australia, Japan, North Korea, South Korea
Big boys not going: Saudi Arabia, Iran
Bahrain won the Asian playoff with Saudi Arabia and will play Oceania winners New Zealand in a two legged playoff. Winner goes to the World Cup. If it's Bahrain than they can rightly claim to be the kings of World Cup playoffs.
Game to watch:
Bahrain vs New Zealand 1st leg (October 10th)
Return game is November 14th in New Zealand.
---
OCEANIA:
See above. Also, when will Oceania merge with Asia? My guess is sooner rather than later.
Table/standings at FIFA.com (but it's basically evidence that New Zealand is the new Australia).
---
EUROPE:
The big one. 13 World Cup places available. Teams split into nine groups. Nine group winners go to South Africa no questions asked. Eight best group runners-up play are drawn randomly against each other for a two-legged playoff. The four winners go to South Africa.
Already qualified: England, Netherlands, Spain
Nealy there: Slovakia have a five point lead at the top of Group 3. Serbia and Italy have four point leads at the top of Groups 7 and 8 respectively. But nothing is guaranteed.
Too close to call: Denmark lead Sweden by three points in Group 1, but the two meet in Copenhagen on Saturday. If Sweden lose, then they're vulnerable to being leapfrogged by Portugal.
Germany leads Russia by one point in Group 4, and the two play on Russia's artificial turf the same day. Winner can take the group and automatic qualification (provided they don't slip up in their final game).
Group 2 is all very tight, with Switzerland leading Greece and Latvia by three points by three points, and all having two games to play.
Big boys in trouble: France are trailing Serbia and could be looking at playoffs.
Turkey are third in Group 5, four points behind Bosnia-Herzegovina, who they need to catch up with to make the playoffs.
Czech Republic and Poland are fourth and fifth in Group 3, and looking close to kissing South Africa goodbye.
But the big story is still Portugal. Even after last month's mini-resurgence, Cristiano Ronaldo and co are still third in Group 1, and need to beat both Hungary and Malta while hoping Denmark or Sweden slip up enough for them to squeeze into the top two.
Games to watch:
Denmark vs Sweden (October 10th)
Portugal vs Hungary (October 10th)
Ireland vs Italy (October 10th) (even a draw would leave Ireland looking strong for second place)
Russia vs Germany (October 10th)
Bosnia-Herzegovina vs Spain (October 14th)
Switzerland vs Israel (October 14th)
---
CONCACAF
Three and a half places. Group of six (the hexagonal). Top three go to South Africa. Fourth place team has a two legged playoff vs Argentina fifth placed South American team.
Already qualified: No one yet.
Nearly there: USA and Mexico are one and two respectively and are looking likely. USA need a win against either Honduras or Costa Rica, which isn't as easy as it sounds. Mexico need a win against either El Salvador or Trinidad & Tobago, which shouldn't be too difficult. Honduras just need to do better than T&T in the next seven days, and that way they can take third.
Games to watch:
Honduras vs USA (October 10th) (if you can)
USA vs Costa Rica (October 14th) (only watch if both teams still need a result)
---
SOUTH AMERICA
Four and half places. Top four are guaranteed. Fifth place has a playoff against fourth place CONCACAF team.
Already qualified: Brazil, Paraguay
Nearly there: Third place Chile just need one win, against either Colombia or Ecuador, and they're on the plane to South Africa.
Too close to call: The difference between finishing fourth, fifth or sixth is huge. Fourth is World Cup, fifth is playoff, six is staying home. But the difference between current fourth place Ecuador and current eighth place Colombia is just four three points. This one was worth copying and pasting the table: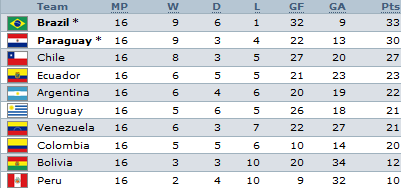 Big boys in trouble You don't need me to tell you this one do you? Argentina are sweating. Maradona doubly so. All eyes are on him this week. Uruguay are currently in the not-going zone, but – lucky for neutrals – the two face each other in the final game, which will definitely determine who finishes where.
Games to watch: So very many, with that epic battle to avoid finishing sixth or below.
Colombia vs Chile (October 10th)
Ecuador vs Uruguay (October 10th)
Argentina vs Peru (October 10th)
Uruguay vs Argentina (October 14th) (thanks Maximilian)
---
Subscribe

International Football News – World Cup Blog RSS Feed

Share
blog comments powered by Disqus