World Cup Moments: Zidane's Other World Cup Final Headers
April 22nd, 2010 | by: Daryl |

View Comments
More information about the 2010 World Cup Final.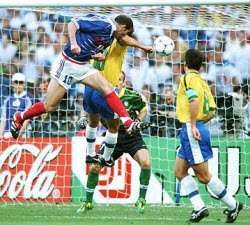 For better or worse (probably worse) the one thing most people know about Zinedine Zidane is that he headbutted Marco Materazzi in the 2006 World Cup final. But when we asked for your favourite World Cup moments it was Zidane's other World Cup final appearance that got the most mentions, and what Zizou did with his head in 1998.
As we all know, France beat Brazil 3-0 in that game to win their first ever World Cup. Emannuel Petit got himself on the scoresheet (which seems slightly bizarre in hindsight) but the game was effectively over at that point thanks to two first half headers from a(n almost) fully follicled Zizou.
Video below:
In some ways, those headers mark the moment that a just turned 26 years old Zinedine Zidane made the trasition from talented footballer to global superstar. Football fans were vaguely aware of Zizou in 1998. He was two years into his Juventus career, and had appeared at Euro '96 (though I'd completely forgotten that latter fact before researching this post). So he wasn't a nobody, but he wasn't world renowned.
Those two headers might not be the quintessential Zizou. Neither features a 360° spin. But they were a fitting end to an impressive tournament and ensured that from that point on, everyone would know the name Zinedine Zidane.
- More World Cup Moments.
Subscribe

International Football News – World Cup Blog RSS Feed

Share
blog comments powered by Disqus