World Cup Moments: When Harald Schumacher Met Patrick Battiston. In Mid-Air.
February 2nd, 2010 | by: Daryl |

View Comments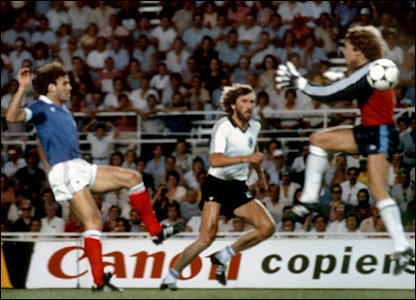 The 1982 World Cup semifinal in Seville between France and West Germany was a stunning game of football. It finished 3-3 after extra time, and then West Germany won (as usual) on penalties. Despite those six goals, the semifinal is mostly remembered for just one thing. Germany goalkeeper Harald Schumacher's horror foul on French defender Patrick Battiston. I say horror foul.. the ref actually gave a goal kick to West Germany. Which you'll probably find hard to believe after watching video of the Schumacher crushing his victim below:
Michel Platini sent a beauty of a through ball through the German defence, which set up a race between Battiston and Schumacher. Battiston got there first and knocked the ball just wide, but Schumacher continued his charge forward and flattened the French defender. I'm thinking penalty and red card. The ref thought goal kick. Sean Connery (is that him narrating the vid? I think it is) was not impressed.
Here it is again from an understanably outraged French perspective:
Battiston was knocked unconscious, lost two teeth and suffered damage to his vertebrae. Schumacher hasn't said a great deal about the incident, but has maintained he was going for the ball. I wish it was easy to believe him, but the lateness and the way he moves his body towards Battiston in mid-air makes it difficult.
The good news is that Battiston recovered and continued to play professional for another nine years. West Germany went on to lose to Italy in the final of the 1982 World Cup, but that game (and specifically Marco Tardelli's celebration) is the subject of a whole 'nother post.
Subscribe

International Football News – World Cup Blog RSS Feed

Share
blog comments powered by Disqus