World Cup Moments: The Wasserschlacht, West Germany v Poland, 1974
May 11th, 2010 | by: chris |

View Comments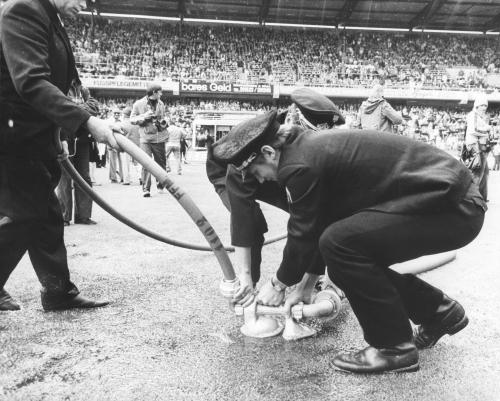 Just because it's the World Cup doesn't mean everything about it need be of World Cup quality. Take the pitch in the 1974 semifinal between hosts West Germany and Poland, for example – it looked like it belonged hosting the 400m butterfly at the Summer Olympics rather than a World Cup game. And that's precisely why it became known as the Wasserschlacht, German for water fight.
The game wasn't a semifinal, per say, but it was: the winner would win up winner of Group B and thus unofficially, it was a semifinal. Therefore it was a largely important game. Factor in German-Polish relations and, well, wars have been started over less. (Too soon?)

The skies above Frankfurt had opened that day, and Poland were unhappy because the pitch was a pool. It's impossible to say the Polish were favored, particularly on German soil, err, mud, but they played the prettier, pacier football by all accounts and prettier football, as we know, does not like water. It's like those things from that movie with the guy that I wouldn't dare spoil for anyone even though you're about ten years late.
Poland wanted the game postponed; West Germany, as hosts, wouldn't. The pitch was drained and rolled as best they could and the game would go on, and the Germans would win 1-0. They'd then go on to win the whole darn thing at home against those Dutch fellows, as though they'd just swung each arm on either side (the left over East Germany) and knocked down their neighbors for the title.
The game is perhaps less remembered than the state of the pitch and the controversy surrounding it, like any good World Cup semifinal.
Subscribe

International Football News – World Cup Blog RSS Feed

Share
blog comments powered by Disqus