World Cup Moments: Roberto Baggio vs Czechoslovakia, 1990
April 26th, 2010 | by: Daryl |

View Comments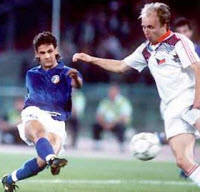 Roberto Baggio's preformance at the 1994 World Cup is lauded. Quite rightly too. His goals took Italy all the way to the final, where he played injured and missed the decisive penalty. Tragic but heroic stuff from The Divine Ponytail.
However, four years before his 1994 performance, Roberto Baggio was making his World Cup debut in 1990, when Italy hosted the tournament. He wasn't such an integral player as in 1994, had some sort of mullet instead of his ponytail and spent a lot of time on the bench. But Baggio played in Italy's final game of the group stage vs Czechoslovakia (which the Azzurri won 2-0) and scored one of the best Worlds Cup goals you'll ever see.
Want to see video of the goal? Then step right this way…

The quick one-two with Giuseppe Giannini is nice start, but it's the dribbling after the return pass that gets the attention. What I really like is that though Baggio is pulling out various stepovers and feints, he basically runs a straight line towards goal. Baggio's fakes are so good that he doesn't need to change direction. His shimmies are enough to physically move Czech defenders out of the way. Like a Jedi.
It even works on goalkeeper Jan Stejskal, who you can see buy Baggio's fake-out and dive the wrong way, allowing Baggio to roll the ball home for one of the great World Cup goals. Bellissimo Roberto.
Subscribe

International Football News – World Cup Blog RSS Feed

Share
blog comments powered by Disqus