World Cup Moments: Maradona's Goal of the Century, '86.
May 21st, 2010 | by: chris |

View Comments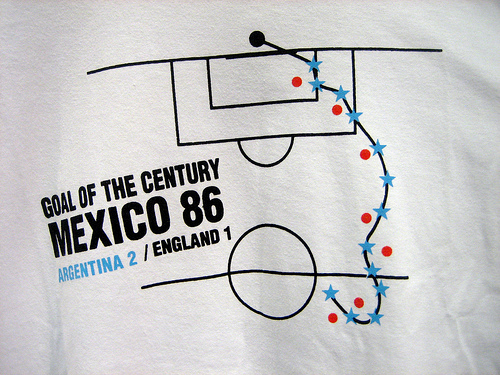 Finishing up a World Cup Moments post on a couple of Maradona Goal recreations, I dove into the World Cup Blog archives for a link and grasped…nothing. Somehow, some way, we hadn't yet devoted a frame all itself to the greatest tournament's greatest goal. At least until now.
The goal has been dissected, emulated and recreated, but most importantly, it has been loved. A goal of superior pace and skill by a footballing magician against a very good team under an umbrella of circumstances which transcended sport itself. It may be the most remembered non-final in World Cup history for two reasons – this is the first.
And it was supposed to be a pass.


"I made the play to give it to Valdano, but when I got to the area they surrounded me and I had no space. Therefore, I had to continue the play and finish it myself." – Diego Maradona
Isn't that always the way? True genius is so often born from failure.
Argentina were up 1-0 in the quarterfinal on the back of Maradona's Hand of God, the illegal goal which the referees failed to spot, and you'd have to believe the English were a little bit stunned, which is why only five minutes later they – and it is a they, because he ran through half the team – conceded the World Cup's most memorable goal, ultimately the winning goal. Starting from his own half…
The most intricate move may have been the first, before Diego ran around, through and past these unfortunate souls: Stephen Hodge, Peter Beardsley, Peter Reid, Terry Butcher, Terry Fenwick and Peter Shilton.
And then there was Jorge Valdano, slyly streaking in unnoticed as the English defense was collapsing to Diego, all alone at the far post, waiting to merely steer in the greatest assist of all-time, inevitably watching the greatest goal of all-time.
'Failure' has never looked so good.
Subscribe

International Football News – World Cup Blog RSS Feed

Share
blog comments powered by Disqus