World Cup Moments: Jurgen Klinsmann Does Gymnastics, 1990.
May 17th, 2010 | by: chris |

View Comments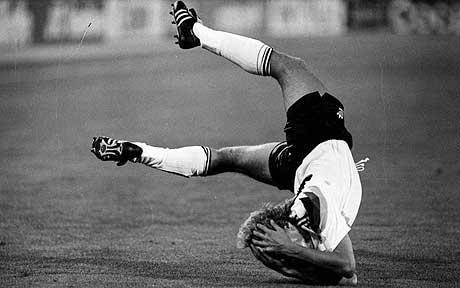 One needn't be a rubbish player to resort to diving – many of the greats have done it. Drogba does it, Cristiano Ronaldo does it, and Pele probably did it too. Jurgen Klinsmann, on one summer night in 1990, did it perhaps better than anyone else in World Cup final history. (He might've done it a couple of other times as well…)
To a degree, it's hard to fault Jurgen – Pedro Monzon was coming fashionably late to the party at Klinsmann's feet with bad intentions, earning his red card, and the chances for losing an appendage were very real, so he had to jump. But then he…Jurgen just lurched into the Grim Reaper's grasp right there on the Stadio Olimpico pitch.

The moment itself is equally as important to the ramification it had on the game – Monzon was sent off in the 65th (the first red in a World Cup final) and Argentina were forced down to ten, and later nine. There would be no penalty this time, but five minutes from ninety there was another debated foul, this time in the box, and Germany won 1-0.
Back to the good stuff: the dive. It's not the trans-Atlantic flight he took from ground-to-ground, but the aftershock. Surely he wasn't feeling great, but surely that was a bit much, yeah? He was a finishing back flip away from making the German rhythmic gymnastics team at Barcelona '92. And the lurch deserved a red, if only for the offense to good TV viewing, which might make it the only "foul" in World Cup history in which two players deserved red despite there being (almost?) no contact whatsoever.
That's awfully impressive when you think about it.
But at least in an event so often defined by its life or death seriousness, Jurgen provided some timeless comedy. Unless you're Argentina, who…well, I don't think they like Jurgen yet. Maybe they like him even less now.
Subscribe

International Football News – World Cup Blog RSS Feed

Share
blog comments powered by Disqus