World Cup Moments: Geoff Hurst, 1966. Did the Ball Cross the Line?
March 22nd, 2010 | by: Daryl |

View Comments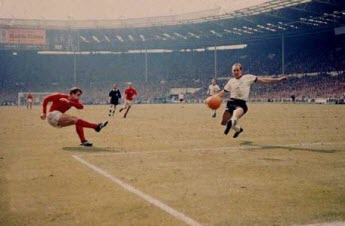 Can you imagine if both YouTube and blogs had existed in sixties? The events of the 1966 World Cup final would have caused internet meltdown. For those unfamiliar, here's what happened:
It was hosts England vs West Germany in the final. West Germany had equalized to make it 2-2 late in the match and take it to extra time. So, 11 minutes into extra time, England's Alan Ball crossed the ball in, and Geoff Hurst turned and shot from just outside the six yard box. The ball hit the bar. The ball bounced down. Either on or over the line. Then Wolfgang Weber headed the ball clear.
The England players celebrated a goal, the West Germany players protested. Swiss referee Gottfried Dienst looked confused, and so consulted his linesman Tofik Bakhramov (who was from Azerbaijan, not Russia, though he was technically a citizen of a Soviet state at the time, which is probably why he became known as "the Russian linesman"). Bakhramov said goal, and it was 3-2 to England.
Here's a YouTuber of the goal (or "goal"?), with German commentary:

And with English commentary:

It's been 44 years since that happened. In the intervening years mankind has been to the moon, mapped the human genome and found a way to make Andy Serkis look like a giant gorilla. Yet we're still arguing over whether goal-line technology is a good idea or not. But that's another argument for another day.
Obviously Hurst went on to score his third and England's fourth. Since England won 4-2, you could say the controversial nature of the third goal can be ignored. But since the fourth goal was a direct result of West Germany pushing forward in search of an equalizer, that's not a great argument. So we'll ignore that and agree that this is the goal that won the 1966 World Cup.
So, the big question: Did it cross the line or not?
---
- More World Cup Moments here.
Subscribe

International Football News – World Cup Blog RSS Feed

Share
blog comments powered by Disqus