World Cup Moments: Diego Maradona and the Hand of God
April 14th, 2010 | by: Daryl |

View Comments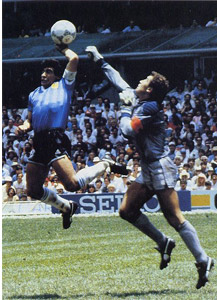 This may be the most controversial goal in World Cup history. It's from the 1986 quarter-final between Argentina and England, a game Argentina won 2-1 with Diego Maradona scoring twice. We all know about his second goal, so this post will focus on his first. The infamous "Hand of God" goal.
In the 51st minute, with the score at 0-0, Maradona played a ball out wide to Jorge Valdano. England's Steve Hodge managed to dispossess Valdano, but could only kick the ball high into the air, back into the heart of the England penalty area. This set up an aerial challenge between England goalkeeper Peter Shilton (height: 6′ 1″) and Argentine attacking mid Diego Maradona (height: 5′ 5″). Shilton's ball, yes?
No. Because Diego Maradona beat Shilton to the ball, extending his left hand and punching it past the England keeper and into the net. 1-0. Shilton and the other England players complained, as you would, but Tunisian referee Ali Bin Nasser had failed to spot the handball, and so the goal stood.
Obviously people in England both were and are very very upset about this goal. In the interests of full disclosure, I should make clear that I'm an England fan myself, and would prefer that this had never happened. When you see an opposition player clearly cheating and somehow getting away with it, and then winning the game (a World Cup quarter-final no less) as a result, it's perfectly reasonable to wish bad bad things on El Diego.
However… it's been 24 years since the "Hand of God" goal. Very nearly a quarter of a century. Plus, the front page of World Cup Blog is supposed to be neutral. So I think it's worth trying to look back at this moment as dispassionately as possible. Excuse me while I attempt to compose myself.
…
One thing I've come to appreciate about this goal is the sheer ballsiness of it. I'd imagine most other players placed in Maradona's situation of challenging a goalkeeper for a high ball, with an eight inch height difference disadvantage (and that's before you factor in Shilton's reach) would make a half-hearted jump for a ball they have no intention or expectation of winning. Because no one would blame them for losing that battle.
But Maradona wanted it. He wanted it bad enough to cheat. Not only that, he cheated cleverly, disguising his hand with his head at the moment he made contact with the ball. The referee could always disallow it, and maybe even show Maradona a yellow card, but in terms of risk vs reward, you can't fault the logic behind Maradona's decision to attempt the handball.
It's also worth considering the symbolism of this moment. This is something I think I heard the BBC's South American correspondent Tim Vickery explain. Or maybe I read it somewhere, but have forgotten the source. Or maybe I even thought this up myself, in which case well done me. But basically, Maradona is from one of the rougher parts of Buenos Aries, where kids need to use their wits to get by and to get ahead. By fair means or foul. A tiny #10 beating a gigantic goalkeeper through cunning and quick-thinking is exactly the type of street smarts needed to survive.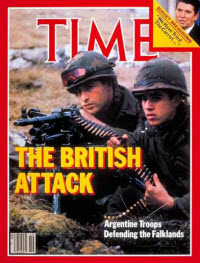 Then there's the historical and emotional context of this particular game to consider. England fans maybe forget this too easily when discussingh Maradona's handball, but in 1986 the recent Falklands War (or the Malvinas War), in which Argentina suffered a militarily defeat to the United Kingdom and lost 649 lives, was still fresh in the memory of all Argentineans. Here's what Maradona himself wrote in his autobiography, describing the build-up to the 1986 World Cup quarter-final:
I say a final because for us, because of everything it represented, we were playing a final against England. More than defeating a football team it was defeating a country. Of course, before the match, we said that football had nothing to do with the Malvinas War but we knew a lot of Argentinean kids had died there, shot down like little birds. This was revenge. It was like recovering a little bit of the Malvinas. In the pre-match interviews we had all said that football and politics shouldn't be confused, but that was a lie. We did nothing but think about that. Bollocks was it just another match!
(from "El Diego" by Diego Maradona, pages 127-128)
That maybe doesn't excuse the handball, but it definitely explains some of the motivation behind it. It's Maradona doing what the Argentinean military couldn't do, and defeating and bigger, stronger opponent through intelligence and cunning.
Let's move on past the actual handball moment itself, because Maradona's post-match comments are almost as famous in their own right. When asked about the goal in the post-match press conference, Maradona responded that the goal was scored "a little with the head of Maradona and a little with the hand of God". Cheeky, but one of the all time great footballing lines.
Obviously Maradona knew he'd handballed at the time. But the Hand of God quote seems to be partially about not wanting to own up at the time, and partially about enjoying sticking it to the English. Here's another excerpt from his autobiography, comparing the handball goal to his even more famous second goal:
Sometimes I think I almost enjoyed that one more, the first one. Now I feel I am able to say what I couldn't then. At the time I called it 'the hand of God'. Bollocks was it the hand of God, it was the hand of Diego! And it felt a little bit like pickpocketing the English…
(from "El Diego" by Diego Maradona, page 130)
I know opinion is strongly divided on Diego Maradona. Both love and hate are regularly sent in his direction. Though as an England fan I still feel cheated by the little man, I also recognize him as one of the all time great characters of the game. Not just for his talents with the ball, which were amply demonstrated later in the very same game (which will be a World Cup Moments post of its own soon) but because he's one of those guys that creates incident and controversy wherever he goes, and in doing so makes the beautiful game that much more entertaining.
Subscribe

International Football News – World Cup Blog RSS Feed

Share
blog comments powered by Disqus