World Cup Moments: Dennis Bergkamp's Goal vs Argentina in 1998
March 9th, 2010 | by: Daryl |

View Comments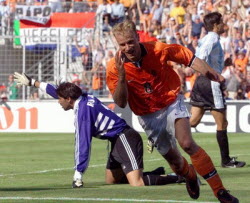 If you remember the 1998 World Cup in France, then you remember Dennis Bergkamp's goal for the Netherlands in the quarterfinal vs Argentina. The score was 1-1 in the 89th minute, and extra time looked almost certain. Until Bergkamp produced his moment of magic.
The goal was all about three touches, all with his right foot. First Bergkamp brings down a long high pass from Frank DeBoer as gently as if he were putting an infant to bed. Second, he knocks the ball through experienced Argentina defender Roberto Ayala's legs for a surprise nutmeg. Third he expertly judges the bounce and fires into the far corner to win the game and take Holland through to the World Cup semi-finals.
We have a YouTube video below, featuring the now famous Dutch language commentary from Jack van Gelder. The man is so ecstatic at what he's just witnessed he can only scream the name "Dennis Bergkamp!" over and over again. Watch below and try not to do the same.
- For more Oranje, visit Jan's Netherlands blog.
- Or check out our ever-growing collection of World Cup Moments.
Subscribe

International Football News – World Cup Blog RSS Feed

Share
blog comments powered by Disqus